If you suffer from acne, you're not alone. Nearly 50 million americans suffer from acne and 95% of people experience acne at some point in their life. Most of those people are looking for the best acne treatment.
We spend hundreds of dollars on products that don't work or contain chemicals and irritants that make acne and inflammation worse, or dry out our skin. In my last article about acne, I mostly talked about the hormonal type and how to treat it with maca. Now I'm going to give you all the details about natural oils and essential oils that can gently heal your acne and prevent breakouts. Read on to find out which oils make for the best acne treatment
Essential oils that fight acne have strong anti-bacterial, anti-inflammatory, antiseptic and astringent qualities. Natural carrier oils that fight acne have a high linoleic acid content and a lower oleic acid content. Skin that is deficient in linoleic acid, has thick and sticky sebum that easily clogs pores and causes acne. Applying linoleic acid-rich oils can help make our sebum more fluid so it can easily flow out of our pores and reduce breakouts. In addition to the linoleic acid content, we also want to look for natural oils that have a low comedogenic rating - meaning their likelihood to clog pores. 0 is the lowest likelihood, while 5 is the highest. Also look for carrier oils that are anti-inflammatory, moisture balancing, and promote cell regeneration to heal those acne scars.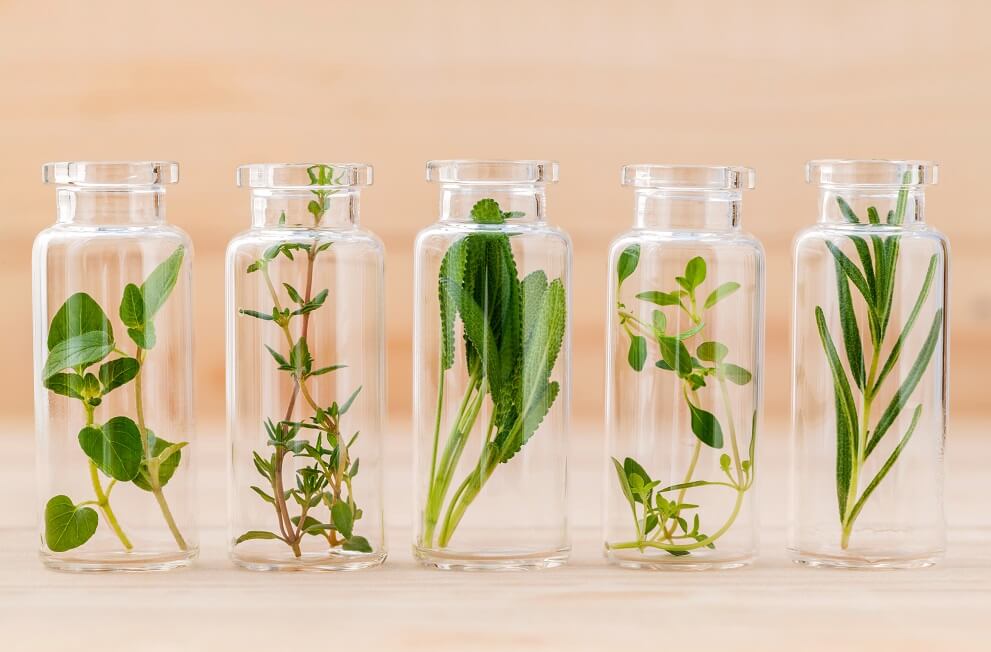 The Essentials
Essential oils are extracted from plants via steam distillation, cold-press or resin tapping and are a concentrated essence of the botanicals from which they are drawn. They qualities and therapeutic properties of essential oils are more concentrated and often even more powerful than the plants themselves. There are many essential oils can be used as a beneficial acne treatment but I've picked the best of the best.
Lavender is the most commonly used essential oil. It's high in anti-oxidants and improves mood and brain function. It's anti-inflammatory qualities heal acne, sunburn and allergenic skin conditions. Lavender is extremely healing, regenerative, antibacterial, and astringent which efficiently treat oily skin prone to acne. It's also beneficial for irritated, damaged skin, dilated pores, scars, stretch marks and dark spots. As an acne treatment, lavender works well with other essential oils like tea tree and frankincense.
This ultra floral essential oil prevents signs of aging and helps to keep skin youthful and hydrated. It's antiseptic and anti-inflammatory qualities soothe irritated skin and heal acne. This essential oil is a welcomed acne treatment because of it's sweet floral scent, unlike many of the other acne oils which have strong astringent and herbal notes. As a bonus, the aroma of ylang ylang can reduce stress and anxiety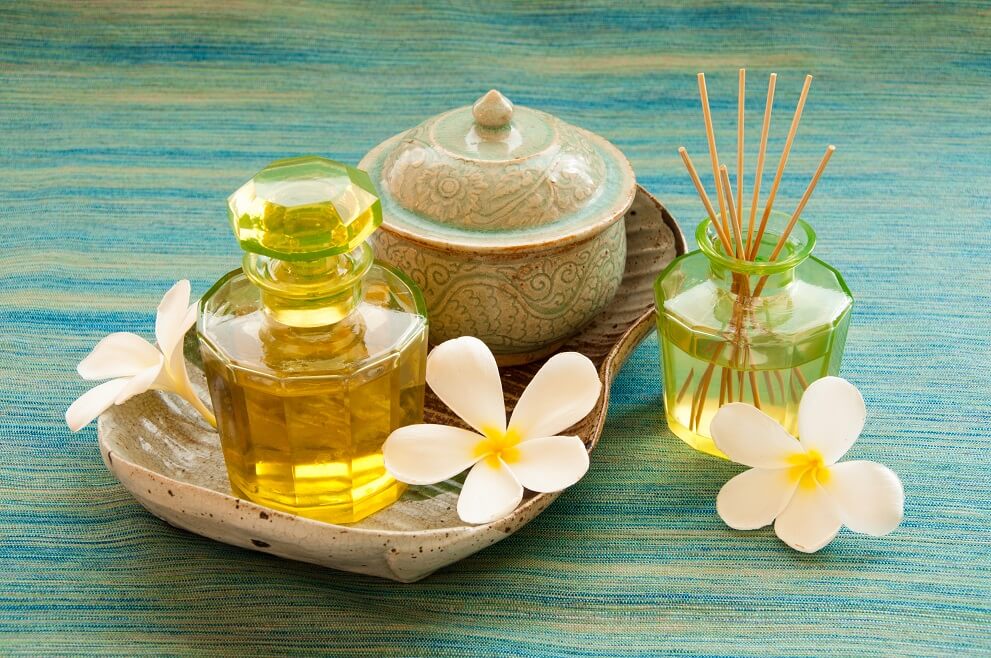 Frangipani/Plumeria Absolute
The scent of frangipani is pure divinity. It's an excellent moisturizer to and calm irritated, dry, and dull skin. Frangipani's astringent qualities reduces acne breakouts and redness while calming rashes and eczema. It's able to soothe sensitive skin with it's amazing anti-inflammatory powers and improve skin luster.This sweet oil promotes positive self-confidence and is uplifting to your overall outlook. Use it as an acne treatment along with ylang ylang and lavender for a floral trio of acne-fighting benefits.
This sweet aromatic, earthy herbal is one of the most powerful natural astringents. It shrinks the skin and promotes skin healing making it fabulous for acne and inflammation. It is a powerful anti-oxidant, anti-inflammatory, anti-microbial and antiseptic but is also helpful at regenerating skin cells, a must in the treatment of acne and scar healing.
Violet Leaf is highly anti-inflammatory, soothing and cooling but also makes an excellent moisturizer for very dry skin. Violet leaf also gently tightens pores and is useful to control acne, eczema and dermatitis. It has also been known to calm nerves and anxiety for more restful sleep, an overall soothing and calming acne treatment.
This medicinal herb has regenerative, astringent and anti-inflammatory qualities, great for acne prone skin, oily skin, wrinkles and mature skin. It helps regulate sebum production and tones the skin. Clary sage also has sedative and soothing qualities.
Frankincense has been used medicinally for thousands of years and is sourced from the resin of the Boswellia tree, commonly grown in Somalia. It is a powerful astringent which speeds up the healing of acne, protects skin from bacteria and lifts & tightens. Frankincense will fade scars, controls sebum production, tones uneven skin, promotes cell regeneration, reduces fine lines and wrinkles and moisturizes dry skin. Frankincense is really an amazing cure-all, of which acne treatment is just one benefit.
Like Frankincense, Myrrh comes from a resin-like substance from the Commiphora myrrh trees common in Africa and the middle east. It's anti-bacterial and anti-fungal properties can treat skin irritations such as acne and heals dry, cracked skin. It's high in anti-oxidants which slow the aging process and help with skin cell regeneration necessary to eliminate acne scaring. *Myrrh is not recommended for women who are nursing or pregnant.*
The flavanoids in helichrysum are effective against bacteria and irritating skin conditions such as eczema. It can also block UV damage that causes aging. It has strong anti-bacterial, anti-inflammatory and anti-microbial properties that heal acne, redness and inflammation. Helichrysum is highly regenerating and healing, great for mature skin, wrinkles, cellulite, acne, dilated pores, stretch marks and circles under the eyes.
Not one of my favorite oils due to it's pungent smell, but beneficial nonetheless. Beta-carotene is a powerful anti-oxidant which protect skin from damage from UV rays and pollutants. Carrot seed oil is a powerful skin rejuvenator. It's also high in vitamins E & C which moisturize, heal and regenerate, a big reason it's commonly used to treat eczema, psoriasis and dermatitis. Carrot seed oil stimulates cell regeneration and heals damages while balancing moisture.
The most common and well known use for tea tree oil is the treatment of acne. It's powerful antiseptic, anti-fungal, and anti-viral qualities encourage healing. Unlike benzoyl peroxide, it doesn't cause redness and peeling but it's equally as powerful. It's also effective against inflamed skin issues such as eczema and psoriasis. Tea tree is a long-time favorite of mine for acne treatment.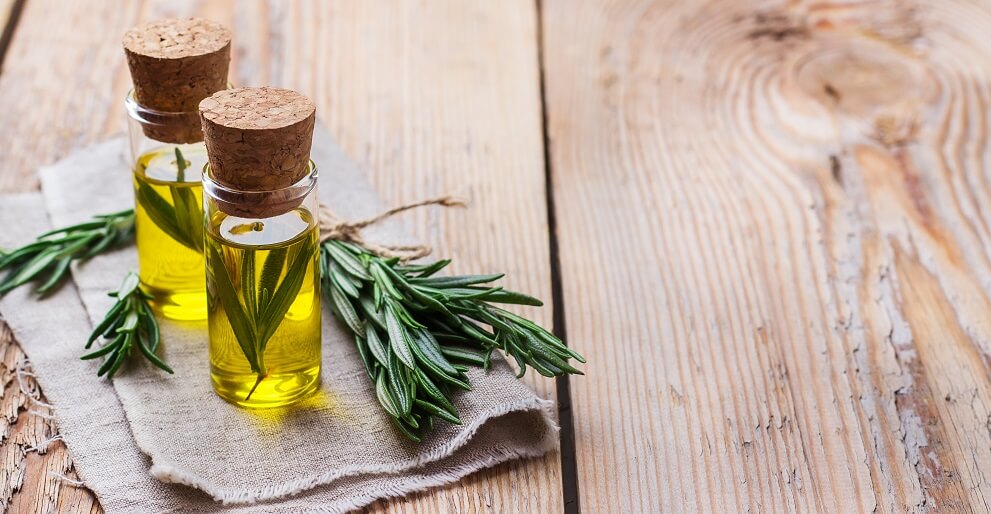 Rosemary oil has antimicrobial, anti-inflammatory and antiseptic properties that help reduce eczema, dermatitis and acne. It also re-hydrates and tones skin while fighting wrinkles, fantastic for treating mature skin with acne.
Peppermint oil soothes inflammation and can calm irritating skin conditions like eczema and psoriasis. It simultaneously brightens up dull skin and prevents clogged pores and over production of sebum.
Palmarosa is actually a grass that is processed through steam distillation. It is used commonly to treat inflamed skin such as acne and dermatitis. It's highly antibacterial making it good for a variety of skin conditions and acne treatment.
Eucalyptus oil heals skin irritation such as acne due to the antiseptic and anti-bacterial properties. This makes a fantastic acne treatment when blended with tea tree and lavender essential oils.
Lemon oil is cold-pressed from the lemon rind and contains d-limonene, a powerful cancer fighting antioxidant. It increases luster of dull skin and is detoxifying and rejuvenating. It can help reduce acne with it's astringent qualities and nourishes dry damaged skin. Like orange oil, it contains high amounts of vitamin C which heal and protect skin.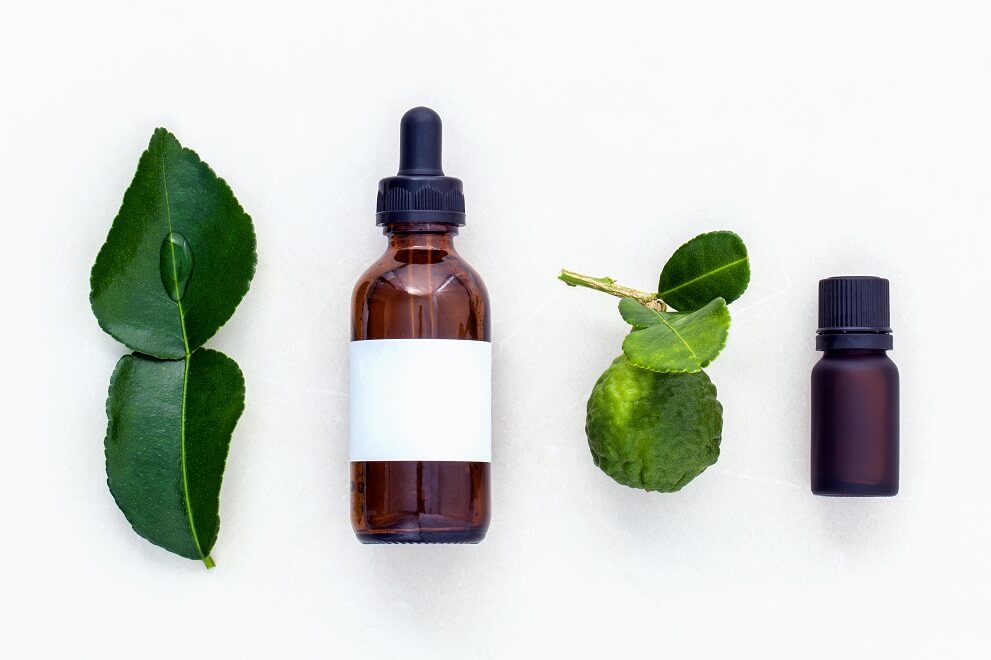 Bergamot is cold-pressed oil from the peel of the bergamot fruit(a cross between a lemon and an orange). It's a mood enhancer and is especially wonderful at acne treatment and infected pores due to it's anti-bacterial qualities. effective toner and skin balancer as well as a treatment for eczema and psoriasis, scars and dark spots.
Lemongrass has antimicrobial, antibacterial, antiseptic, and anti-fungal properties which detoxify, heal acne and brighten skin. Perfect for use as a toner and to strengthen skin tissues.
Ginger oil comes from the ginger root but is a more potent source of benefits because it has a higher concentration of gingerol. Ginger contains a high level of anti-oxidants that prevent free radical damage and premature aging. It's also highly antiseptic, anti-inflammatory and anti-bacterial which make it a great addition to acne treatments or skin sensitivity issues and allergies.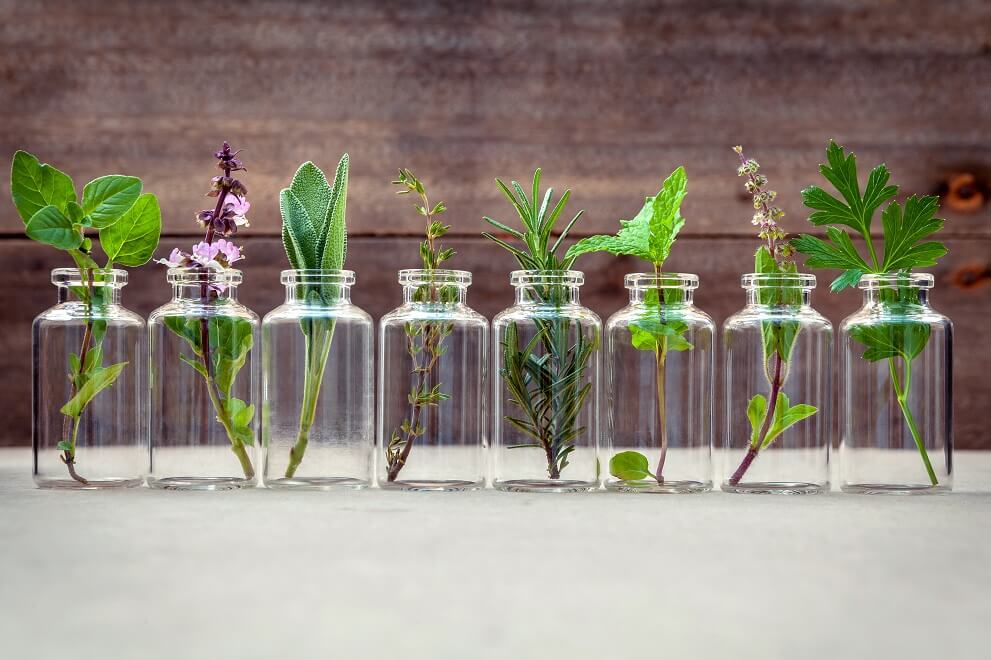 The Carriers
A carrier oil is a natural vegetable oils used to dilute essential oils and help to carry the essential oils over and into the skin. Carrier oils also have amazing skin benefits but need to be used in larger amounts than concentrated essential oils. It's important to select an oil that has regenerative qualities, to heal skin quickly after an acne outbreak.
Argan Oil - up to 36% Linoleic Acid
0 comedogenic rating - My personal favorite carrier oil! Make sure to buy certified organic, cold pressed, unrefined Moroccan argan oil. I like to get mine from Organic Infusions. Argan oil is high in vitamin E, essential acids and retinol which combat free radicals that damage skin cells and cause premature aging. It's highly anti-inflammatory and will help ease eczema, psoriasis, acne and sensitivity issues. Argan oil deeply penetrates skin and is absorbed easily so it won't leave you feeling greasy. Argan oil makes a great after-sun treatment due to the high amount of vitamin E, which can heal UV damage. It also restores elasticity and reduces wrinkles. Talk about liquid gold!
Hemp Seed Oil - 56.48% Linoleic Acid
0 comedogenic rating - My favorite acne-treatment. This beauty oil is fantastic for restoring harmony to inflamed, angry skin. It's high in linoleic acid which naturally occurs in our own skin sebum. Linoleic acid keeps sebum moist and fluid, making it easier to flow out of your skin and prevent clogged pores. Hemp seed oil can reduce inflammation and dryness, even skin tone and is proficient at treating acne. I always include this oil in my acne formulations.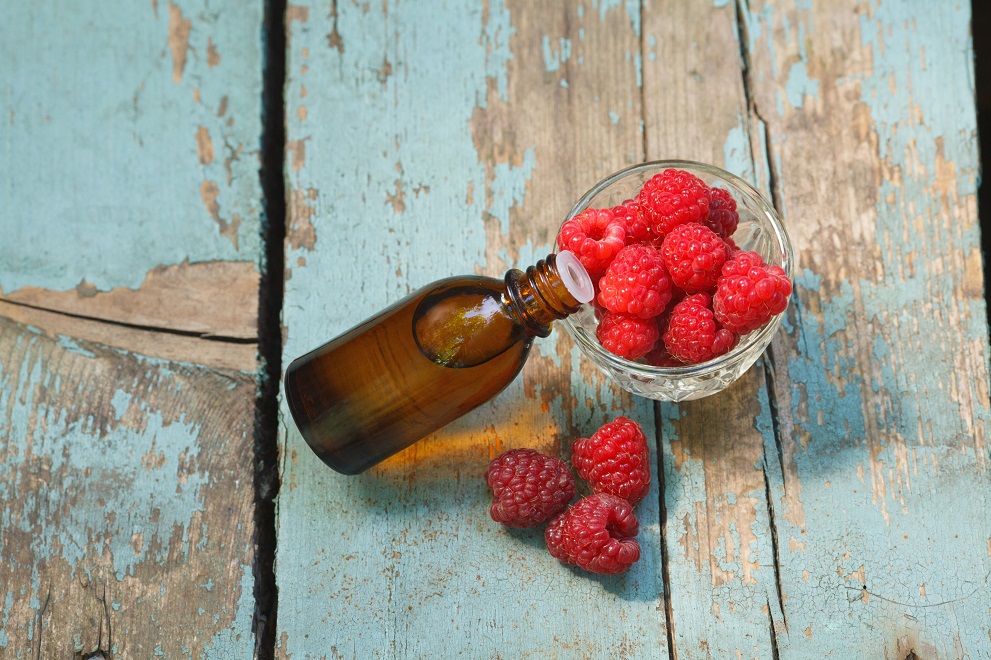 Raspberry Seed Oil - 44.1% Linoleic Acid
0 comedogenic rating - Raspberry seed oil is high in vitamin E which is a potent antioxidant that reduces free radicals that cause premature aging. It has natural sun protection comparable to titanium dioxide with a SPF value of 28-50 for UVB rays and 6-7.5 for UVA rays UVA rays cause aging and skin cancer. It's packed with vitamin A which heals UV damage and repairs the skin cells. Raspberry seed oil is high in linoleic acid which is anti-inflammatory and helps with skin cell regeneration as well as reducing clogged pores and treat acne. Ellagic acid can reduce collagen destruction and protects against UV damage and skin cancer. The phytosterols present in this beauty oil promote new collagen production for younger skin.
Rosehip Seed Oil - 44.1 Linoleic Acid
1 comedogenic rating - Rosehip seed oil is known to skin tissue, including acne, burns, and stretch marks. It is high in essential fatty acids, Vitamin A and Vitamin E which promote healthy skin, promote collagen and elastin levels and regenerates skin cells. It's a perfect oil for deep wrinkles, dermatitis, eczema and psoriasis. Make sure you buy unrefined, cold pressed rosehip oil.
Cucumber seed oil - 60-68% Linoleic Acid
1 comedogenic rating - Cucumber seed oil treats dry skin, eczema, psoriasis, acne and sunburns. It absorbs reletively quickly and keeps skin soft and moisturized without leaving it greasy. It encourages cell regeneration, reduces wrinkles, stretch marks and guards against free-radicals.
1 comedogenic rating - Though castor oil is very low in linoleic acid and a stickier oil, it's benefits should not be missed. Castor oil is highly acclaimed for it's anti-inflammatory and anti-microbial properties. It moisturizes the skin while treating acne and reducing pigmentation. Castor oil prevents stretch marks and helps to fight signs of aging by stimulating the production of collagen and elastin. It's high concentration of fatty acids restore hydration and remove dry patches while also penetrating scar tissue and encouraging new skin cell regeneration. This oil can be rather drying, so use in moderation or diluted with other carrier oils.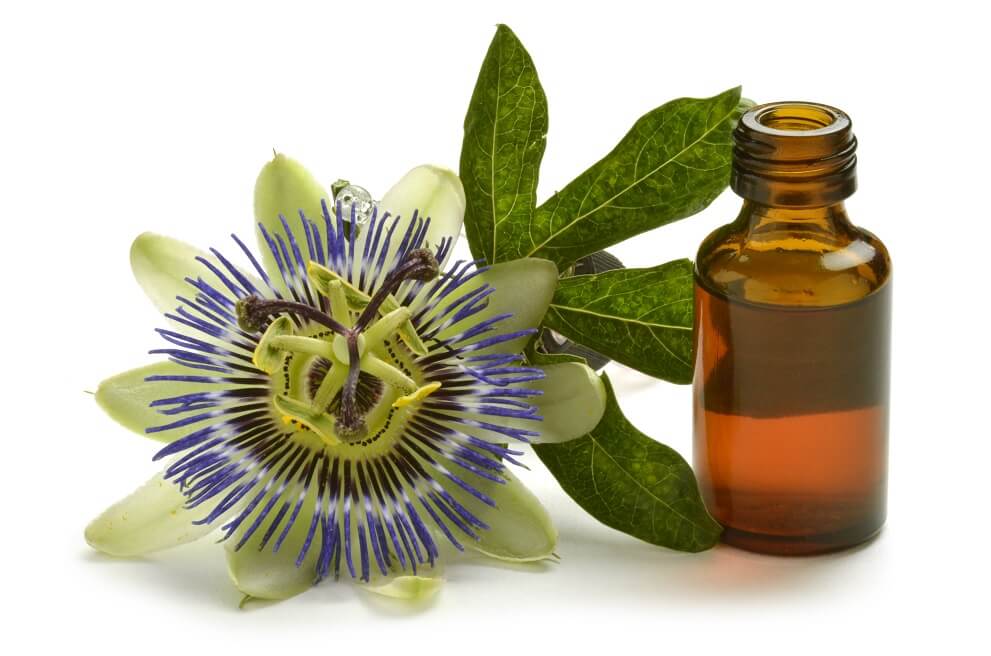 Maracuja Oil - 55-65% Linoleic Acid
1-2 comedogenic rating - Also known as passion fruit flower oil, it's a great anti-inflammatory & anti-bacterial, known for it's healing emollient properties. It heals dry skin, inflammation, reduces swelling, anti-acne, anti-aging, wrinkles, skin rejuvenation, dermatitis, eczema, psoriasis, and all types of skin conditions. It's a fantastic choice for acne treatment.
Grapeseed oil - 65-85% Linoleic Acid
2 comedogenic rating - Grape seed oil contains linoleic acid, anti-oxidants and anti-inflammatory properties that are fantastic for reducing acne and blemishes. It also has astringent qualities that tighten pores, reducing blemishes and blackheads. It's gentle enough for sensitive skin but is also an excellent moisturizer that wont clog pores. Finally, it improves skin elasticity, reducing signs of aging.
Tamanu Oil - 29.7% Linoleic Acid
2 comedogenic rating - Tamanu oil is high in anti-oxidants which accelerate wound healing and growth of new tissues. It's a powerful skin regenerator but is also anti-bacterial and anti-inflammatory which make it a powerful acne fighter.
When selecting essential or carrier oils for your skin, always be sure to purchase organic or wild crafted oils in their purest form. Try one of our oil-based serums formulated specifically for acne
Antidote - Therapeutic blemish elixir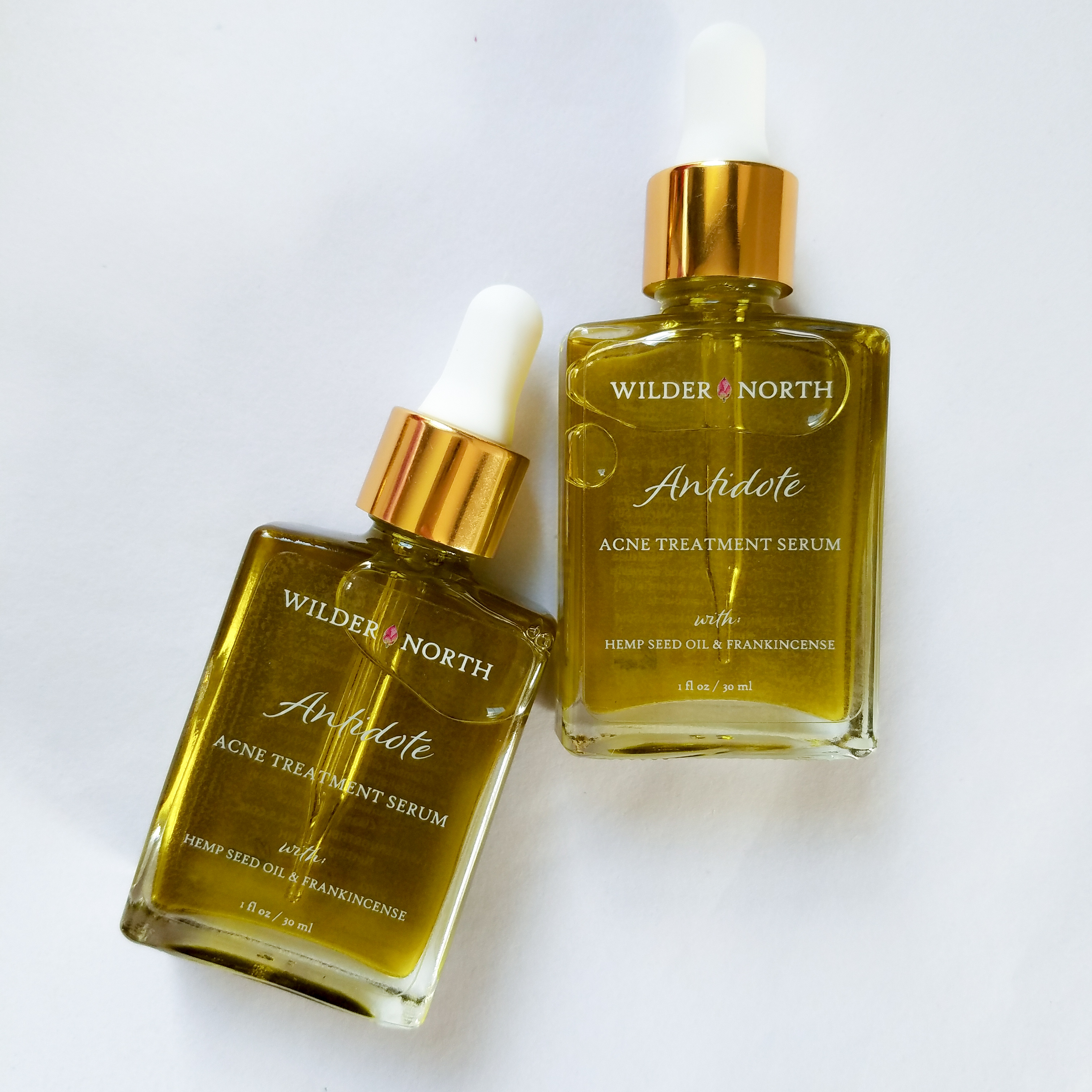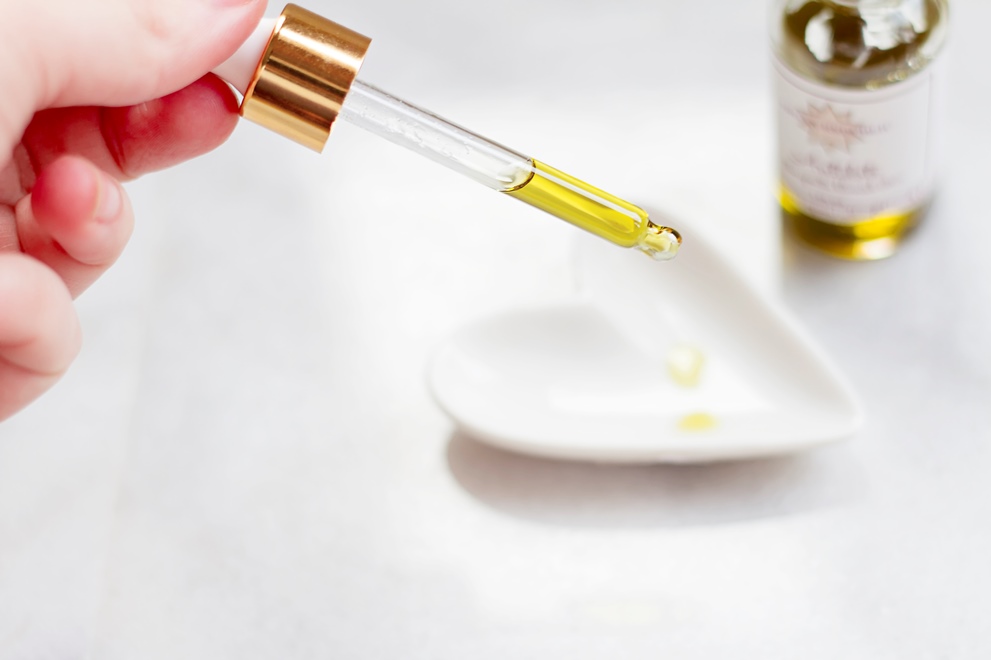 ___________________________________________________________________________________________
References:
http://blog.mariobadescu.com/acne-by-the-numbers-9...
https://www.fromnaturewithlove.com/product.asp?pro...
_______________________________________________________________________________________________
Wilder North cannot be held responsible for any actions made, implied or expressed by anyone as a result of this guidance.
The above statements have not been evaluated by the FDA. They are in no way intended to heal, prevent or treat any illness. Please consult your doctor if you are seeking medical advice.
_______________________________________________________________________________________________