As a soon-to-be mother of 2, I find myself on a lot of facebook support groups for a wide range of child and pregnancy related issues. Mother's have so many questions and in an age where information is at our fingertips, there's a lot of great but also misinformation available to us. Pregnancy is a time when you want the best health for yourself and your baby, so it's important to seek the truth. That being said, are friendly recommendations really enough?
Everyone has an opinion, everyone thinks they have the holy grail product, they're going to give you advice whether you ask for it or not... and then there's TV commercials, ugh! It's all well-meaning(hopefully) and I'm not saying you shouldn't take advice from a trusted source or friend. But lets take a step back from all that clutter and give you some comprehensive information about stretch marks and stretch mark prevention. If you haven't already read it, head over to our article about Essential Oil Safety for Pregnant and Nursing Women - which is likely the most informative article on the internet on this topic and a must-read for all natural mamas.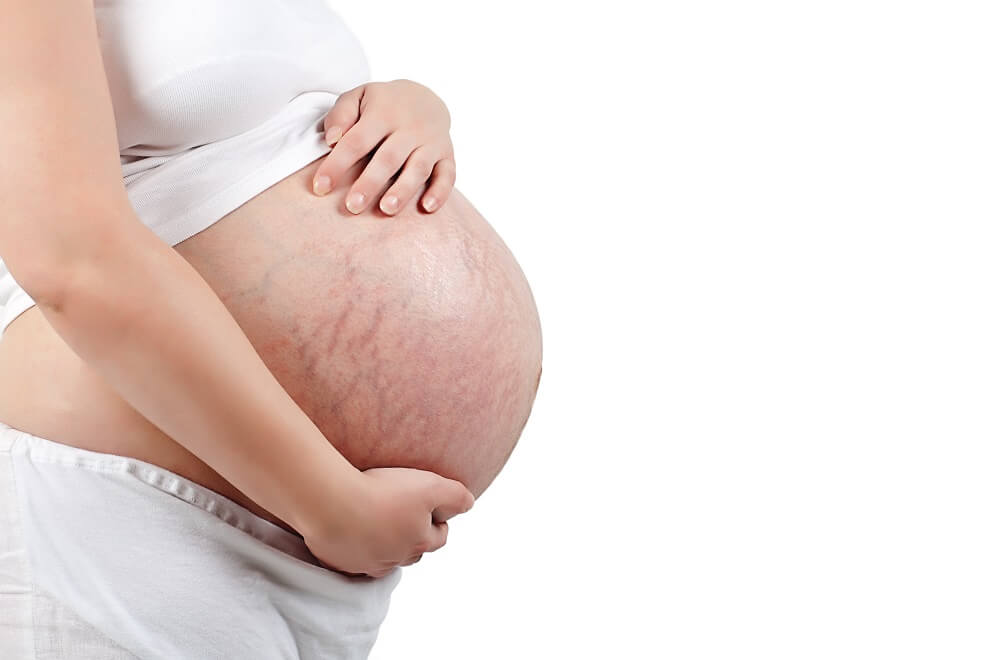 Stretch Marks
We hate them, right? You always get the happy optimist who says "embrace them, love them", but it can be hard to feel that way when your body has been ravaged and you desperately want to feel like your old self. I have been lucky enough to avoid getting stretch marks on my belly - I do have them on my hips from weight fluctuations and I know how frustrating it is.
What are stretch marks
Stretch marks are indented streaks or lines on the skin, often red, pink or purple, which may fade to a lighter color. They most often cover the abdomen, breasts, hips, thighs and buttocks.
What causes stretch marks
Stretch marks are a scaring caused by a stretching of the skin, often brought on by weight gain, pregnancy, rapid weight gain or loss. Some people can also get them from breast augmentation, hormonal therapy, puberty, body-building, genetic disorders or taking certain medications. Females are more likely to get stretch marks.
To get technical, stretch marks form after the tearing of the dermis, which is the middle tissue layer responsible for skin keeping it's shape. This happens especially when there is an increase in cortisone. Cortisone can affect skin's pliability by preventing skin cells from synthesizing collagen and and elastin fibers which keep skin elastic, firm and taut, leading to dermal and epidermal scaring(stretch marks).
Who gets stretch marks
If and how severely you get stretch marks is based on 4 things:
Genetic make up
Cortisone levels
Degree of trauma (how much and where skin has been stretched)
How you treat your skin
About 90% of women are affected by stretch marks.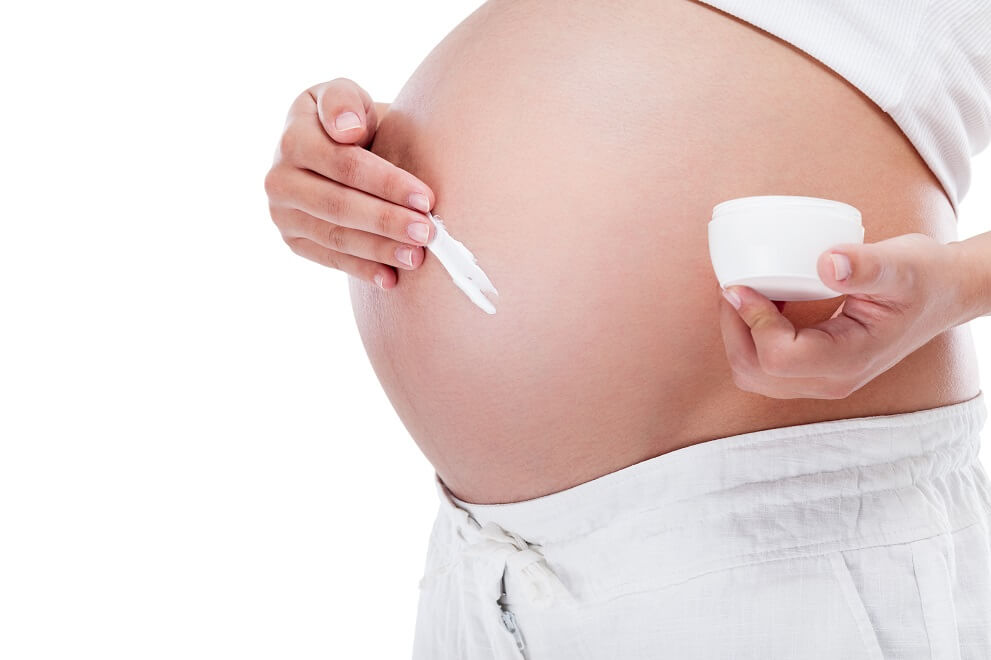 How to prevent stretch marks
Not everyone will be able to prevent stretch marks but there are things you can do to help.
Maintain a healthy weight.
Obviously this can be unavoidable during pregnancy, but you can still maintain a healthy pregnancy weight and avoid gaining rapidly by eating healthy and exercising daily. Exercise also helps keep a good blood flow to your skin, necessary for healthy skin cells.
Drinking water keeps your entire body hydrated and skin soft, supple and less prone to tears.
Purging your body of toxins and sludge will help to keep skin cells healthy and able to do their job. Try dry-brushing your skin to slough off dead skin and toxins. Take a relaxing salt soak; use some himalayan sea salt in your tub with a few drops of relaxing and detoxifying oils like grapefruit or ginger. Overhaul your diet; purge your pantry of packaged and processed foods that decrease our beauty energy.
Adopt a moisturizing skin care routine
Keeping your skin hydrated, moisturized and healthy will make it more elastic, comfortable and resilient. Religiously apply skin-loving oils, butters or balms to stretch-mark-prone areas twice per day, especially after bathing.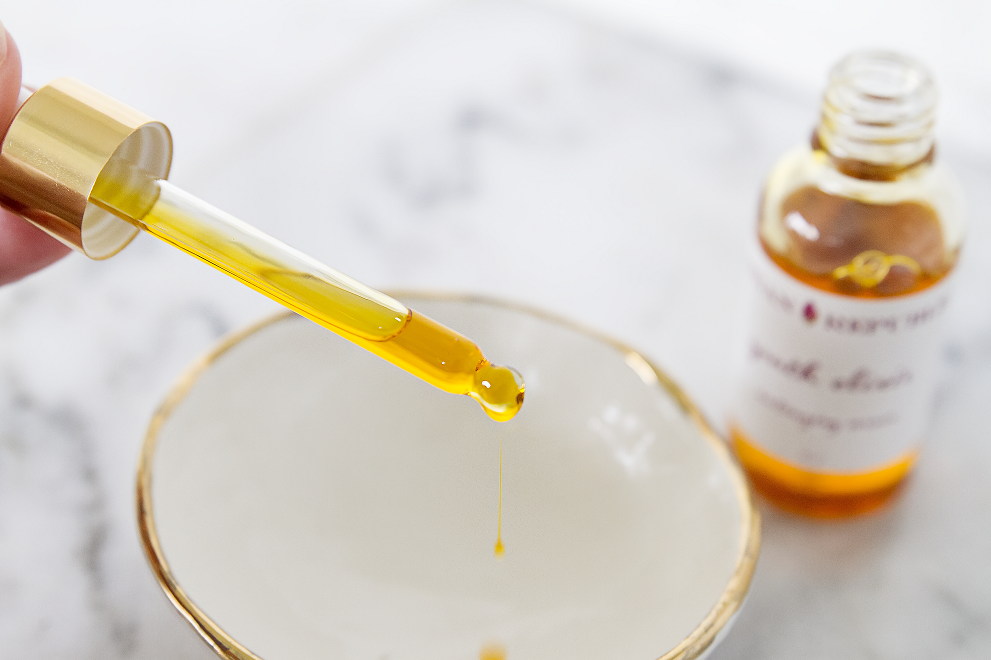 Oils, natural butters and herbs for stretch mark prevention
My personal favorite! Make sure to buy certified organic, cold pressed, unrefined Moroccan argan oil. Argan oil is high in vitamin E, essential acids and retinol which combat free radicals that damage skin cells and cause premature aging. It's highly anti-inflammatory and will help ease eczema, psoriasis, acne and sensitivity issues. Argan oil deeply penetrates skin and is absorbed easily so it won't leave you feeling greasy. Argan oil makes a great after-sun treatment due to the high amount of vitamin E, which can heal UV damage. It also restores elasticity and reduces wrinkles.
Rosehip seed oil is known to skin tissue, including acne, burns, and stretch marks. It is high in essential fatty acids, Vitamin A and Vitamin E which promote healthy skin, promote collagen and elastin levels and regenerates skin cells. It's a perfect oil for deep wrinkles, dermatitis, eczema and psoriasis. Make sure you buy unrefined, cold pressed rosehip oil.
Prickly Pear Seed Oil(Barbary fig oil)
This fairly new beauty oil contains 150% more vitamin E than Argan oil, in fact it contains the most of all the beauty oils. Prickly pear is quickly and easily absorbed by skin due to the high content of linoleic acid. It penetrates deeply and doesn't leave skin greasy. Prickly pear also improves elasticity, prevents wrinkles and stimulates cell renewal with it's high content of anti-oxidants from betelains. Betelains are super-anti-oxidants with powerful anti-aging effects, commonly found in acai, gogi berries and blueberries. It reduces hyper-pigmentation and dark under-eye cricles due to the vitamin K. Prickly pear seed oil is an intensely moisturizing oil, perfect for very dry or mature skin yet will not clog your pores because of the high linoleic acid content. It's also non-irritating for sensitive skin!
Cucumber seed oil treats dry skin, eczema, psoriasis, acne and sunburns. It absorbs reletively quickly and keeps skin soft and moisturized without leaving it greasy. It encourages cell regeneration, reduces wrinkles, stretch marks and guards against free-radicals.
This highly penetrating and contains Squalene which boosts natural emollients in skin that guard against wrinkles, pre-mature aging, and loose skin. White Camellia leaves skin soft and supple and improves skin regeneration and skin restoration.
Marula oil is another favorite of mine, make sure you buy Organic or wild crafted, cold-pressed. This oil is a great companion to argan oil because it picks up where argan leaves off. Not only does marula oil diminish fine lines and wrinkles, but it promotes elasticity by stimulating collagen production. It is also great at reducing the appearance of scars and pigmentation. High in vitamin C & E, it's loaded with anti-oxidants and boots skin natural ability to regenerate.
Raspberry seed oil is high in vitamin E which is a potent antioxidant that reduces free radicals that cause premature aging. It has natural sun protection comparable to titanium dioxide with a SPF value of 28-50 for UVB rays and 6-7.5 for UVA rays UVA rays cause aging and skin cancer. It's packed with vitamin A which heals UV damage and repairs the skin cells. Raspberry seed oil is high in linoleic acid which is anti-inflammatory and helps with skin cell regeneration as well as reducing clogged pores and acne. Ellagic acid can reduce collagen destruction and protects against UV damage and skin cancer. The phytosterols present in this beauty oil promote new collagen production for younger skin.
Pomegranate seed oil is a fantastic anti-aging oil containing punic acid which is shown to regenerate skin layers, and improve skin tone and elasticity while reducing inflammation. It's high in anti-oxidants and vitamin C which both contribute to younger looking skin, as well as being anti-microbial, anti-carcinogenic and anti-inflammatory.
Hazelnut oil strengthens capillaries which van reduce the appearance of thread veins. It's moisture and sebum balancing but also moisturizing. It's rich in fatty acids and is quickly absorbed by skin. It promotes elasticity and skin cell regeneration while stimulating circulation for a glowing complexion. It has a natural SPF of around 15.
Tamanu oil is high in anti-oxidants which accelerate wound healing and growth of new tissues. It's a powerful skin regenerator but is also anti-bacterial and anti-inflammatory which make it a powerful acne fighter
Coconut oil is a powerful healing, moisturizer containing vitamin E which protects skin cells from free radicals. It soothes eczema, sunburns, stretch marks, psoriasis and allergenic skin conditions. It's highly antiviral and anti fungal.
This favorite of mine is an intoxicating cross between floral and citrus scents. It is made from the delicate flowers of the bitter orange tree that are hand-picked and handled with great care. It's fantastic for mature and sensitive skin because it repairs skin at the cellular level. Neroli tones the complexion and improves elasticity which diminishes wrinkles, scars and stretch marks. It's highly regenerative, calming, improves circulation, balances oily skin and calms sensitive skin with it's anti-microbial properties.
Lavender is the most commonly used essential oil. It's high in anti-oxidants and improves mood and brain function. It's anti-inflammatory qualities heal acne, sunburn and allergenic skin conditions. Lavender is extremely healing, regenerative, antibacterial, and astringent which efficiently treat oily skin prone to acne. It's also beneficial for irritated, damaged skin, dilated pores, scars, stretch marks and dark spots.
Helichrysum essential oil
The flavanoids in helichrysum are effective against bacteria and irritating skin conditions such as eczema. It can also block UV damage that causes aging. It has strong anti-bacterial, Anti-inflammatory and anti-microbial properties that heal acne, redness and inflammation. Helichrysum is highly regenerating and healing, great for mature skin, wrinkles, cellulite, acne, dilated pores, stretch marks and circles under the eyes.
Frankincense essential oil
Heals scars, controls sebum production, tones uneven skin, promotes cell regeneration, reduces fine lines and wrinkles, treat dry skin, reduces the appearance of scars, speeds up the healing of acne.
Lotus cleanses and purifies, while providing antioxidant protection against free radicals that cause aging and disease. It has natural moisturizing properties that condition and hydrate skin. Like hibiscus, lotus has natural alpha-hydroxyl acids that help exfoliate the outer layer of skin, encouraging fresh cells to rise to the surface for younger looking skin. The result is skin that can more effectively regenerate itself. Lotus has an anti-inflammatory property that help reduce redness and acne outbreaks. Lotus helps to repair proteins in the skin's cells that restore strength and elasticity. It also helps stimulate blood flow, which brings luster and glow to your complexion.
Mango Butter teats very dry, flaky skin, promotes collagen production, fades scars and fine lines, reduces degeneration of skin cells, protects from sun damage, high in anti-oxidants and anti-inflammatory.
Shea butter has been used for centuries in Africa for its moisturizing and healing properties, where it has been used to protect and condition skin which has been damaged.
Non-gmo - natural preservative, anti-oxidant - prevents free radicals from damaging skin cells, helps with recovery of sun damage, scars and stretch marks
Calendula is beneficial for dry or damaged skin and also promotes the fast healing and regeneration of the skin thanks to its anti-inflammatory and antibacterial properties. It has natural restorative properties that infuse the skin with a youthful glow. Calendula oil is also used to protect the skin from premature aging and thinning of the skin.
How to treat stretch marks
Once stretch marks have formed, they can be difficult to remove. They will naturally diminish with time and you can try to speed up the process by following the prevention steps above. You can also try some skin lightening naturals to help fade the color of stretch marks. Potato juice and lemon juice both have skin-lightening benefits. Unfortunately, there's no sure-fire way to eliminate them completely, prevention is the best practice.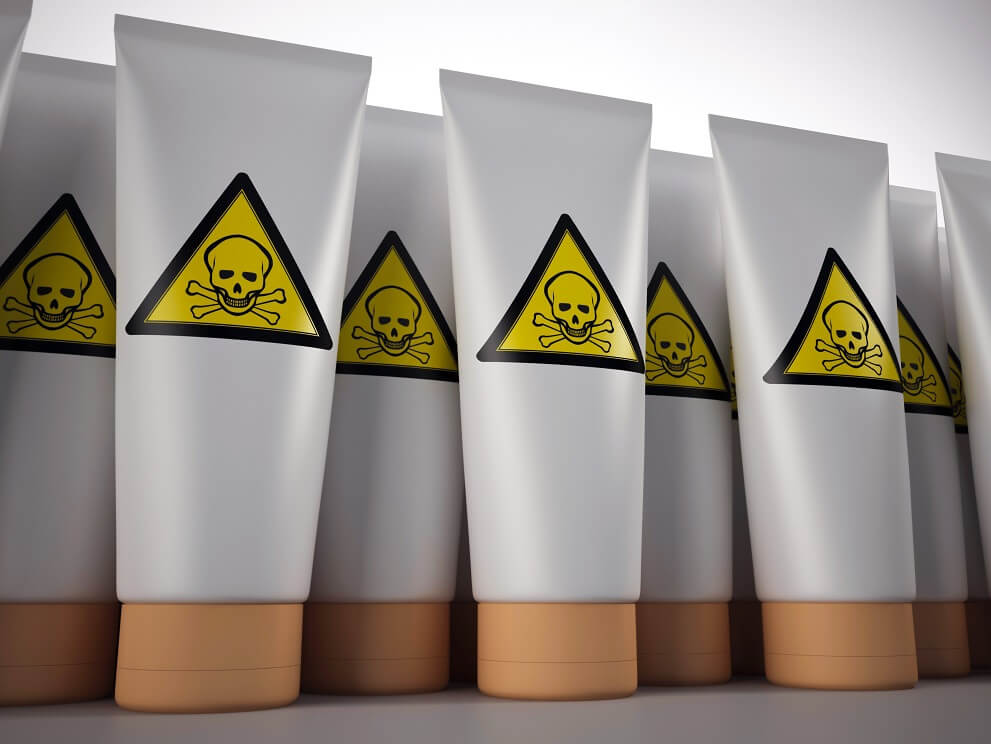 Deceptive products to be used with great caution
I'm going to get into some detail on this because I want to really illustrate how scary these products are.
Bio Oil
Bio oil is a popular drugstore product that many women use for stretch mark prevention but it contains some highly questionable ingredients. It's actually rated an 8 in the skin deep database which indicates that it's highly hazardous. It's terrifying to me that women are using this on their pregnant bellies without knowing how toxic it is. Despite it's seemingly natural name, it's most hazardous ingredients are:
Retinyl Palmitate - Use restrictions, Developmental/reproductive toxicity, Biochemical or cellular level changes, Cancer, Organ system toxicity (non-reproductive)
Tocopheryl Acetate - Allergies/immunotoxicity, Cancer, Ecotoxicology, Contamination concerns (HYDROQUINONE)
BHT - Cancer, Organ system toxicity (non-reproductive), Allergies/immunotoxicity, Irritation (skin, eyes, or lungs), Endocrine disruption, Developmental/reproductive toxicity
Fragrance - Allergies/immunotoxicity, Miscellaneous, Irritation (skin, eyes, or lungs), Organ system toxicity (non-reproductive), Ecotoxicology
Amyl Cinnamal - Allergies/immunotoxicity, Use restrictions
Benzyl Salicylate - Use restrictions, Allergies/immunotoxicity, Endocrine disruption, Ecotoxicology
Citronellol - Use restrictions, Allergies/immunotoxicity
Coumarin - Use restrictions, Allergies/immunotoxicity, Cancer, Miscellaneous
Eugenol - Allergies/immunotoxicity, Use restrictions, Organ system toxicity (non-reproductive)
Geraniol - Use restrictions, Allergies/immunotoxicity, Ecotoxicology
Hydroxycitronellal - Allergies/immunotoxicity, Use restrictions
Hydroxyisohexyl 3-Cyclohexene Carboxaldehyde - Allergies/immunotoxicity, Use restrictions
Limonene, Linalool - Irritation (skin, eyes, or lungs), Use restrictions, Allergies/immunotoxicity, Ecotoxicology, Developmental/reproductive toxicity
Alpha-Isomethyl Ionone, Red 17 - Use restrictions, Persistence and bioaccumulation, Organ system toxicity (non-reproductive), Ecotoxicology
Palmer's Cocoa Butter
This popular product is marketed as cocoa butter for stretch marks but if you look at the ingredients, it's anything but pure cocoa butter. It's rated as a 3 in the skin deep data base, a moderate hazard. It also contains corn oil - not really the most beneficial oil for skin and since most corn is gmo and full of pesticides, I don't recommend using it. I recommend finding 100% pure cococa butter, free of addatives. Some of the most hazardous ingredients include:
Mineral oil - Allergies/immunotoxicity, Cancer, Ecotoxicology, Contamination concerns (HYDROQUINONE)
Dimethicone - Use restrictions, Organ system toxicity (non-reproductive), Ecotoxicology
Fragrance - Allergies/immunotoxicity, Miscellaneous, Irritation (skin, eyes, or lungs), Organ system toxicity (non-reproductive), Ecotoxicology
Tocopheryl acetate - Allergies/immunotoxicity, Cancer, Ecotoxicology, Contamination concerns (HYDROQUINONE)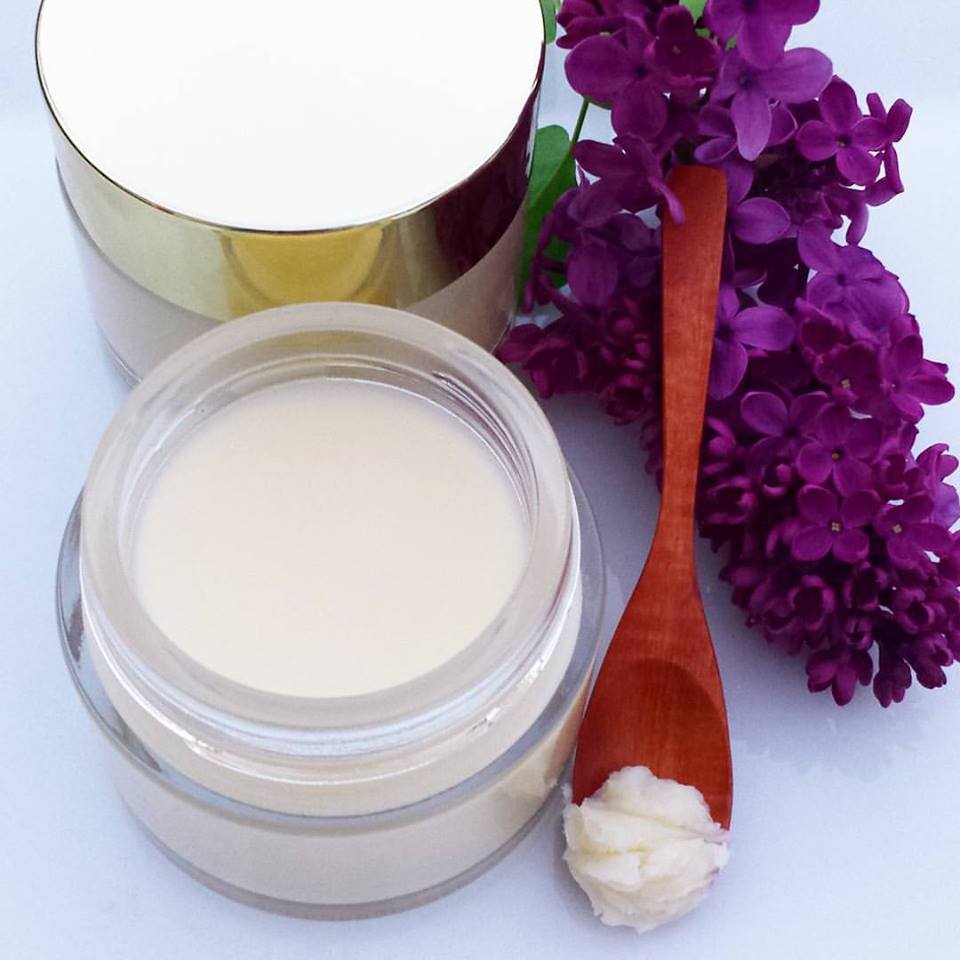 Safe & Non-toxic Stretch Mark products
Now that you are fully educated on stretch marks, you will understand why Argan Republic created the Bliss Belly Butter. As a natural mother, it was extremely important to me to formulate something that was not only 100% natural and non-toxic, but also highly beneficial. I use this product on my own body, as I would never formulate something that I wouldn't use myself. Our natural baby ointment will be available again later this year.
Bliss Belly Butter:
Goal: Stretch-mark prevention, maintain healthy, soft, elastic skin while pregnant
Use: Day and Night
Skintype: All
Why we love it: It's safe for both mama & baby, and pampers mother's to-be
Benefits: This creamy, melty pot of belly butter bliss will keep your pregnant belly comfortable as it grows with baby. We lovingly selected the highest quality, natural and organic oils including certified organic argan oil, to promote and restore skin elasticity, stimulate collagen production, boosts skin natural ability to regenerate and prevent scars & stretchmarks. Bliss Belly Butter is packed with active, clean ingredients in a 100ml jar that will last your entire pregnancy to keep your body feeling loved. All ingredients were specifically chosen because they are non-toxic for both mom and baby! We only used the finest, highest-quality organic, wildcrafted and non-gmo ingredients to ensure no chemicals will touch your precious little one. The Bliss Belly Butter is the absolute best and most beneficial product available for your precious pregnancy.
__________________________________________________________________________________________
References:
http://www.ewg.org/skindeep/?gclid=Cj0KEQjwg47KBRD...
_______________________________________________________________________________________________
Argan Republic cannot be held responsible for any actions made, implied or expressed by anyone as a result of this guidance.
The above statements have not been evaluated by the FDA. They are in no way intended to heal, prevent or treat any illness. Please consult your doctor if you are seeking medical advice.
_______________________________________________________________________________________________