Essential oils are a huge part of a natural beauty routine. Often touted for their aroma therapeutic properties, sometimes the topical benefits are overlooked.
Essential oils, Absolutes and CO2 extracts are not only beneficial for beauty purposes but also to heal wounds, bug bites and irritating skin conditions. An essential oil is a naturally occurring, concentrated liquid that has been distilled by water or steam from the leaves, stem, bark, roots or other elements of a plant. They are the true "essence" of the plant from which they came. Some essential oils, such as citrus, are derived from a cold-press method. Fragrance oils are not the same as essential oils; fragrance oils are artificially created and do not contain therapeutic benefits.
I'm also going to tell you a little bit about CO2 Plant Extracts which can be classified as essential oils. CO2 extracts are oils, resins and matter pulled from the plant through CO2 solvent process at temperatures 45-112 degrees lower than steam distillation. Although this process is relatively new, it can be considered superior because the final product contains more of the actual plant essence then just the oil and have been processed at ambient temperatures. The process wasn't yet refined when aromatherapy became popular, which is why so few people know about it.
Finally, Essential Absolutes are similar to essential oils except they are extracted using solvents, sometimes such as hexane. They also usually contain not only the oils from the plants but waxes and other plant constituents. They are somewhat a cross between essential oils and CO2 extracts. I personally always use hexane-free absolutes so that there is no chance of a small percentage being left behind.
Before I get into the comprehensive list of essential oils, absolutes, CO2 extracts and their qualities, it's important to know that you only purchase them in their most pure form, organic, wild crafted, free of preservatives, dyes, synthetics or chemicals. Because these are such concentrated oils, purity is of the utmost importance.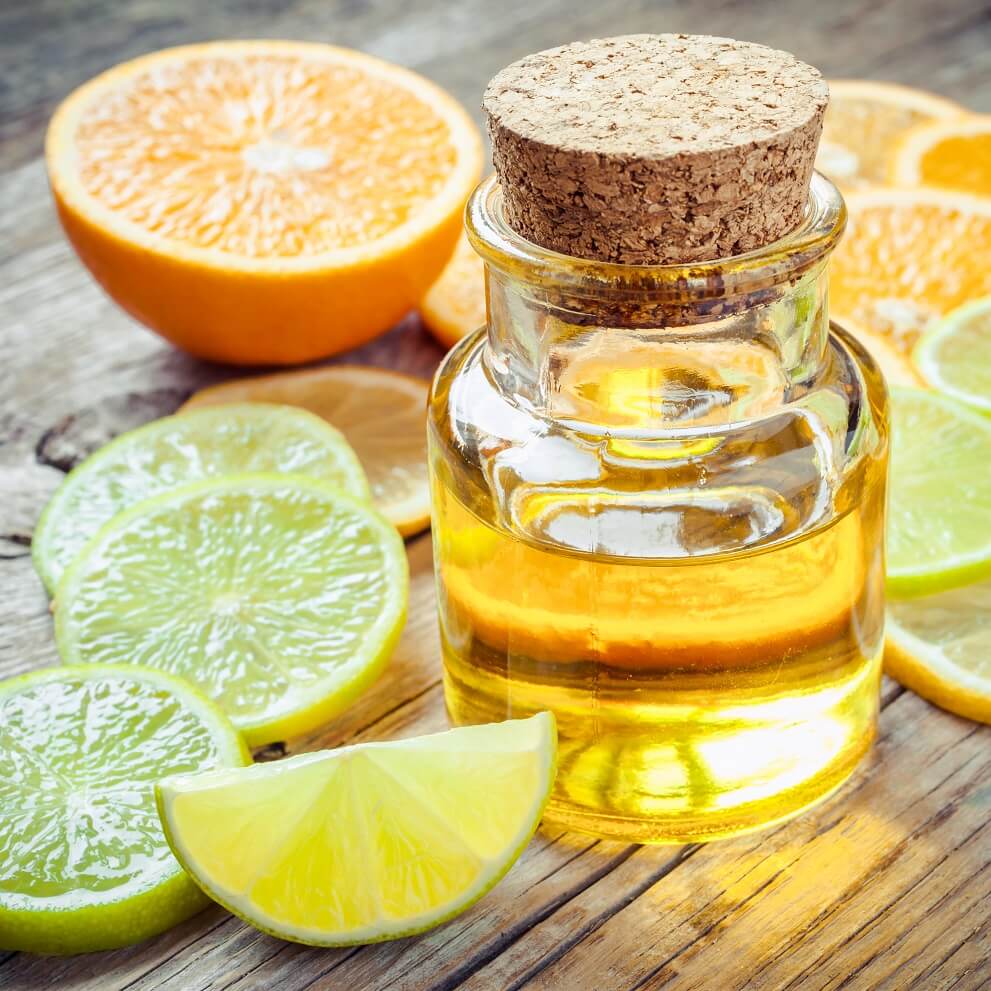 Citrus
Sweet Orange Oil - This sweet citrus promotes the production of collagen as well as increase the blood flow to the skin which can help with fade spots and wrinkles and is helpful at soothing dry, irritated skin. Citrus provide high levels of vitamin c that heal and protect skin. Sweet orange oil also decreases the rate of damage from environmental factors such as uv rays, pollution and toxins. Orange oil is also uplifting and calming which can brighten your mood and balance your hormones.
Lemon Oil - Lemon oil is cold-pressed from the lemon rind and contains d-limonene, a powerful cancer fighting antioxidant. It increases luster of dull skin and is detoxifying and rejuevenating. It can help reduce acne with it's astringent qualities and nourishes dry damaged skin. Like orange oil, it contains high amounts of vitamin C which heal and protect skin.
Neroli - This favorite of mine is an intoxicating cross between floral and citrus scents. It is made from the delicate flowers of the bitter orange tree that are hand-picked and handled with great care. It's fantastic for mature and sensitive skin because it repairs skin at the cellular level. Neroli tones the complexion and improves elasticity which diminishes wrinkles, scars and stretch marks. It's highly regenerative, calming, improves circulation, balances oily skin and calms sensitive skin with it's anti-microbial properties.
Bergamot - Bergamot is cold-pressed oil from the peel of the bergamot fruit(a cross between a lemon and an orange). It's a mood enhancer and is especially wonderful at healing acne and infected pores due to it's anti-bacterial qualities. effective toner and skin balancer as well as a treatment for eczema and psoriasis, scars and dark spots.
Lemongrass - Lemongrass has antimicrobial, antibacterial, antiseptic, and anti-fungal properties which detoxify, heal acne and brighten skin. Perfect for use as a toner and to strengthen skin tissues.
Ginger - Ginger oil comes from the ginger root but is a more potent source of benefits because it has a higher concentration of gingerol. Ginger contains a high level of anti-oxidants that prevent free radical damage and premature aging. It's also highly antiseptic, anti-inflammatory and anti-bacterial which make it a great addition to acne treatments or skin sensitivity issues and allergies.
Floral
Lavender - Lavender is the most commonly used essential oil. It's high in anti-oxidants and improves mood and brain function. It's anti-inflammatory qualities heal acne, sunburn and allergenic skin conditions. Lavender is extremely healing, regenerative, antibacterial, and astringent which efficiently treat oily skin prone to acne. It's also beneficial for irritated, damaged skin, dilated pores, scars, stretch marks and dark spots.
Ylang Ylang - This ultra floral oil prevents signs of aging and helps to keep skin youthful and hydrated. It's antiseptic and anti-inflammatory qualities soothe irritated skin and heal acne. As a bonus, the aroma of ylang ylang can reduce stress and anxiety..
Rose - Around 60 roses go into making just one drop of rose otto essential oil. Make sure you buy organic or wild crafted pure Bulgarian rose Otto. This valuable oil has among the strongest anti-bacterial qualities compared to other oils. It's extremely beneficial for mature, wrinkled, dry and sensitive skin. Rose is ultra regenerative, healing, firming, toning and anti-inflammatory. It has the ability to repair broken capillaries and restores moisture. In addition, when mixed with other beneficial oils, it makes skin more permeable for the other ingredients.
Geranium - Geranium is anti-inflammatory and has astringent qualities that make it beneficial for acne, irritation and dilated pores. Geranium promotes radiant skin and can help reduce wrinkles. This sweet floral oil can also uplift your mood, alleviate anxiety, balance hormones and energize you and promote emotional wellbeing
Pink Lotus Absolute - Lotus cleanses and purifies, while providing antioxidant protection against free radicals that cause aging and disease. It has natural moisturizing properties that condition and hydrate skin. Like hibiscus, lotus has natural alpha-hydroxyl acids that help exfoliate the outer layer of skin, encouraging fresh cells to rise to the surface for younger looking skin. The result is skin that can more effectively regenerate itself. Lotus has an anti-inflammatory property that help reduce redness and acne outbreaks. Lotus helps to repair proteins in the skin's cells that restore strength and elasticity. It also helps stimulate blood flow, which brings luster and glow to your complexion.
Jasmine Sambac Absolute - Breathing in the scent of jasmine has the power to release feel-good brain chemicals that energize as well as reduce stress & anxiety. In addition to Jasmine's sweet, intoxicating fragrance, it contains potent antiseptic, antibacterial, and antiviral properties so it's fantastic at fighting pesky blemishes and rashes. It's also high in anti-oxidants that protect skin from free-radical damage which cause premature aging. Due to this, it's able to fade scars, stretch marks and increases skin's elasticity. Jasmine also helps balance moisture in the skin to naturally reduce dryness without clogging pores.
Frangipani/Plumeria Absolute - The scent of frangipani is pure divinity. It's an excellent moisturizer to and calm irritated, dry, and dull skin. Frangipani's astringent qualities reduces acne breakouts and redness while calming rashes and eczema. It's able to soothe sensitive skin with it's amazing anti-inflammatory powers and improve skin luster.This sweet oil promotes positive self-confidence and is uplifting to your overall outlook.
Lilac Total Co2 Extract - This extract is a thick waxy texture that requires gentle heat in order to be blended with other oils. It's worth the extra steps though, because it carries that classic lilac bloom fragrance and comes with an abundance of skin-loving qualities. Lilac has astringent and anti-bacterial properties, which make it an effective skin tightening agent and toner. Also helps reduce fine lines and wrinkles and improves skin elasticity.
Orchid Extract(hexane-free) - Exquisite orchids reduce the look of fine lines and wrinkles, and contain flavanoids that have strong anti-oxidant properties which soothe and condition skin. They are known to be a humectant, which draws and retains moisture to the skin. Orchid helps maintain a bright and radiant complexion, and works to achieve smooth and flawless skin tone.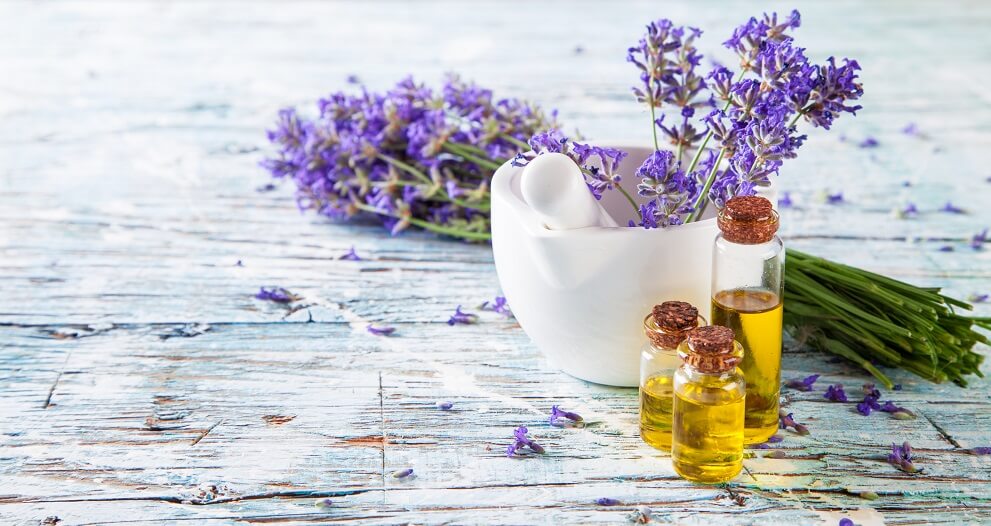 Herbal/Earthy
Blue Tansy - One of the most popular and rare oils today, Blue Tansy has a warm and herbaceous fragrance that encourages relaxation. In addition to being an aromatic relaxant, blue tansy has analgesic, anesthetic, anti-viral, anti-fungal, anti-inflammatory, and anti-allergenic properties which neutralize and stop histamine production to help reduce skin reactions to allergens... it's ultra soothing for the skin. It's useful for itchy dry skin, bruising, dermatitis, damaged, inflamed, and sunburned skin.
Blue Yarrow - This sweet aromatic herbal is one of the most powerful natural astringents. It shrinks the skin and promotes skin healing making it fabulous for acne and inflammation. It is a powerful anti-oxidant, anti-inflammatory, anti-microbial and antiseptic but is also helpful at regenerating skin cells.
German Blue Chamomile - This beneficial essential oil is a cousin of the daisy, known to be gentle and relaxing. It penetrates deep into the layers of your skin where its concentrated anti-inflammatory properties can restore and soothe irritated skin, burns, and other angry conditions. German chamomile oil has anti-fungal, anti-inflammatory, and antiseptic properties making it perfect for sensitive skin prone to inflammation and breakouts.
Violet Leaf absolute - it is highly anti-inflammatory, soothing and cooling but also makes an excellent moisturizer for very dry skin. Violet leaf also gently tightens pores and is useful to control acne, eczema and dermatitis. Violet leaf has also been known to calm nerves and anxiety for more restful sleep.
Clary sage - This medicinal herb has regenerative, astringent and anti-inflammatory qualities, great for acne prone skin, oily skin, wrinkles and mature skin. It helps regulate sebum production and tones the skin. Clary sage also has sedative and soothing qualities.
Frankincense - Frankincense has been used medicinally for thousands of years and is sourced from the resin of the Boswellia tree, commonly grown in Somalia. It is a powerful astringent which speed sup the healing of acne, protects skin from bacteria and lifts & tightens. Frankincense will fade scars, controls sebum production, tones uneven skin, promotes cell regeneration, reduces fine lines and wrinkles and moisturizes dry skin.
Myrrh - Like Frankincense, Myrrh comes from a resin-like substance from the Commiphora myrrh trees common in Africa and the middle east. It's anti-bacterial and anti-fungal properties can treat skin irritations such as acne and heals dry, cracked skin. It's high in anti-oxidants which slow the aging process.
Helichrysum - The flavanoids in helichrysum are effective against bacteria and irritating skin conditions such as eczema. It can also block UV damage that causes aging. It has strong anti-bacterial, Anti-inflammatory and anti-microbial properties that heal acne, redness and inflammation. Helichrysum is highly regenerating and healing, great for mature skin, wrinkles, cellulite, acne, dilated pores, stretch marks and circles under the eyes.
Carrot Seed - Not one of my favorite oils due to it's pungent smell, but beneficial nonetheless. Beta-carotene is a powerful anti-oxidant which protect skin from damage from UV rays and pollutants. Carrot seed oil is a powerful skin rejuvenator. It's also high in vitamins E & C which moisturize, heal and regenerate, a big reason it's commonly used to treat eczema, psoriasis and dermatitis. Carrot seed oil stimulates cell regeneration and heals damages while balancing moisture.
Tea Tree - The most common and well known use for tea tree oil is the treatment of acne. It's powerful antiseptic, anti-fungal, and anti-viral qualities encourage healing. Unlike benzoyl peroxide, it doesn't cause redness and peeling but it's equally as powerful. It's also effective against inflamed skin issues such as eczema and psoriasis.
Rosemary - Rosemary oil has antimicrobial, anti-inflammatory and antiseptic properties that help reduce eczema, dermatitis and acne. It also rehydrates and tones skin while fighting wrinkles.
Peppermint - Peppermint oil soothes inflammation and can calm irritating skin conditions like eczema and psoriasis. It simultaneously brightens up dull skin and prevents clogged pores and over production of sebum.
Palmarosa - Palmarosa is actually a grass that is processed through steam distillation. It is used commonly to treat inflamed skin such as acne and dermatitis. It's highly antibacterial making it good for a variety of skin conditions.
Eucalyptus - Eucalyptus oil heals skin irritation such as acne due to the antiseptic and anti-bacterial properties.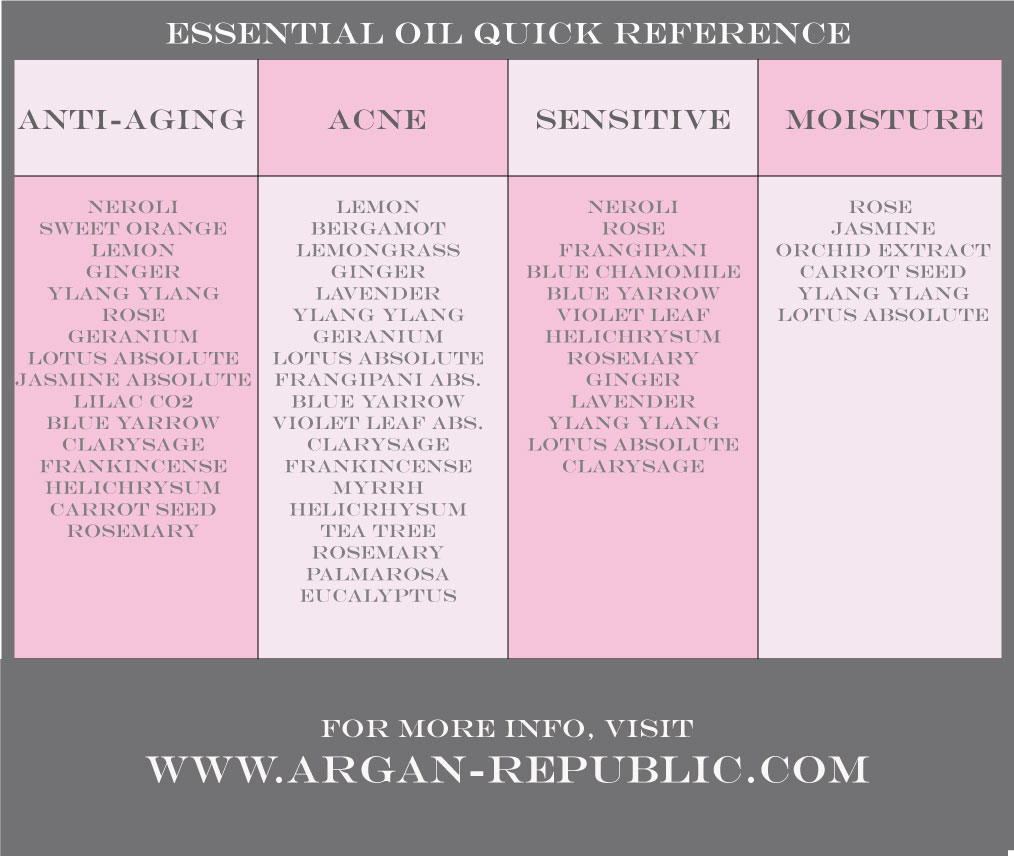 Pregnancy
Having given you the benefits of each essential oil, it's also important to talk about the risk of using essential oils during pregnancy. Although it's a controversial subject, some properly diluted essential oils are safe to use topically during pregnancy and nursing. It is never ever recommended to use these oils internally or undiluted. According to the National Association for Holistic Aromatherapy, the following essential oils are considered safe: cardamom, German and Roman chamomile, frankincense, geranium, ginger, neroli, patchouli, petitgrain, rosewood, rose, sandalwood. Please make sure you consult your physician before using essential oils while pregnant or nursing. UPDATE! We have a new article that gets into more detail about essential oil safety for pregnant and nursing women.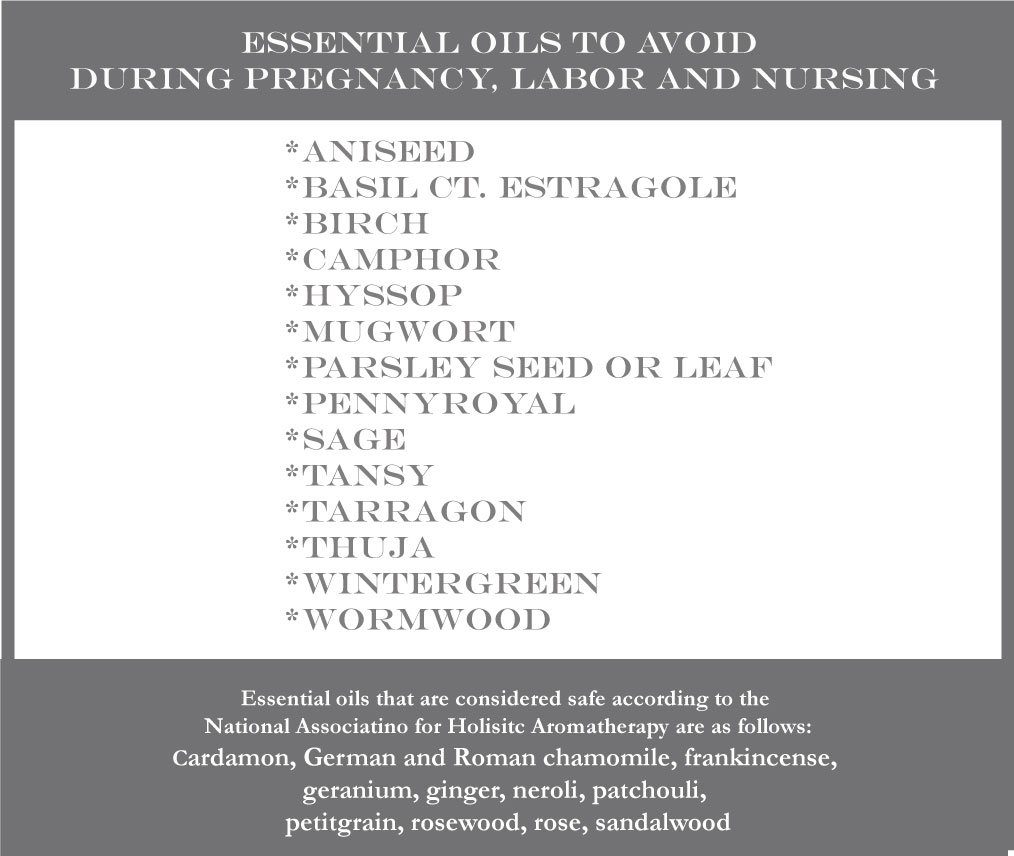 `
Photosensitation/Phototoxicity
Some oils have photosensitizing or phototoxic qualities which occurs when applied to skin followed by exposure to ultraviolet rays. It's recommended that you stay out of the sun for at least 24 hours after using any of the following essential oils.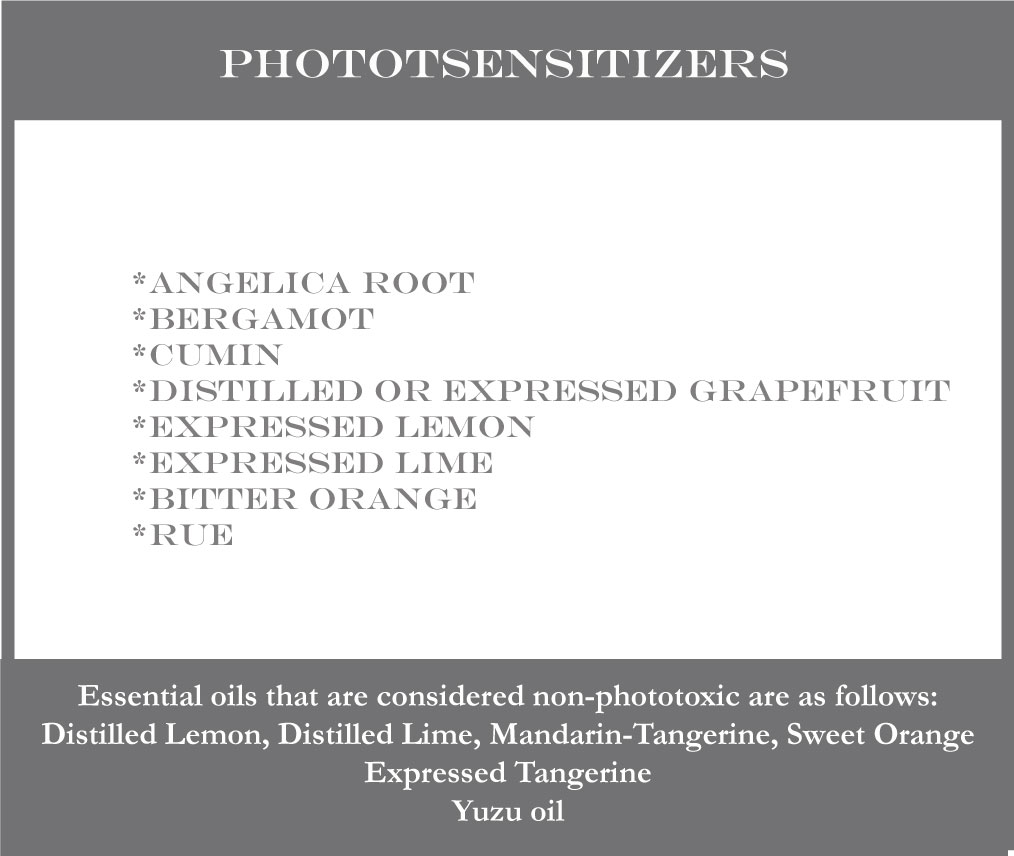 WHERE TO PURCHASE ESSENTIAL OILS
I recently found this article about which essential oil brands are the best and found it to be so helpful, they really did some amazing research. Check our the full article written by consumersadvocate.org
More information about essential oil risks can be found here National Association for Holistic Aromatherapy.
Read more about essential oil safety for pregnant women here.
______________________________________________________________________________________________
Wilder North cannot be held responsible for any actions made, implied or expressed by anyone as a result of this guidance.
The above statements have not been evaluated by the FDA. They are in no way intended to heal, prevent or treat any illness. Please consult your doctor if you are seeking medical advice.