We all want the Glow.
We think there's a holy grail product to give it to us.
[VIDEOS BELOW]
But the truth is... it's HOW you apply your products can make all the difference when it comes to Achieving a Glow like you just came from getting a professional facial. First, there are no Hard & Fast rules. Skin care application should be simple, customized to your specific needs, and somewhat intuitive.
I feel that natural products are not only different in composition, but also in utilization. When you apply natural, hand crafted products to your skin, you should be taking the time to nurture your skin, massage your face, press the product in adequately and truly relish in the ritual. You could just slather them on, move onto the next step, and hope for the best. OR you could lovingly apply your skin care for even better results. Here's some of my best tips for instant glow and long term benefits:
1. THE MIST & PRESS TRICK
+ If you're using a Hydrating Mist, use more than 1 round. Mist your skin, press-press-press-press into skin with both hands. Once your skin drinks that up, repeat. You'll notice that proper application of your hydrating mist will plump and smooth your skin while increasing circulation for that glow. A smooth and plumped face will be conditioned and ready for the rest of your skin routine. Follow your hydrating mist with your oils and balms.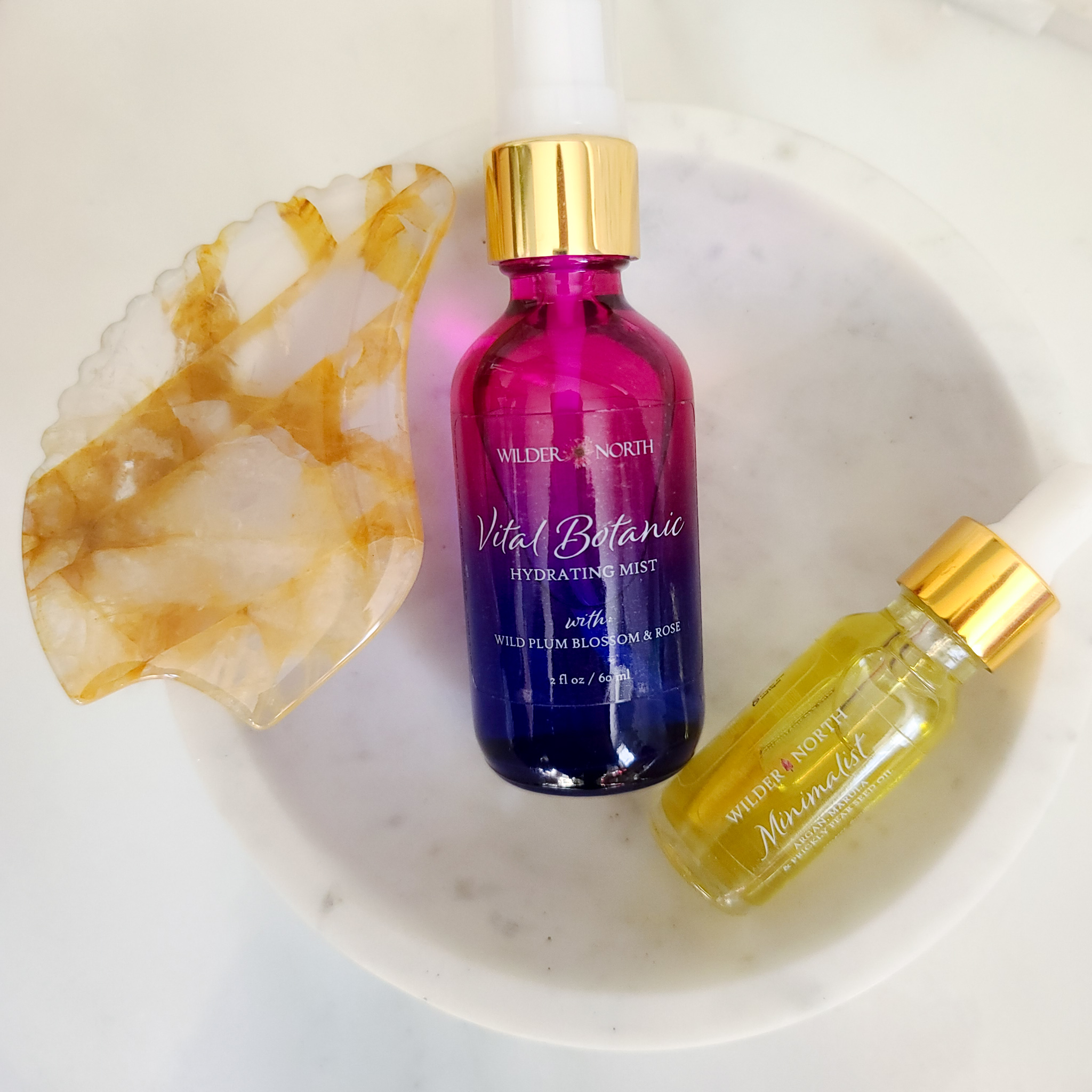 2. THE WARMING TRICK
+ Rub beauty oils and beauty balms between both hands to warm before applying. Warmed products penetrate faster, deeper and more evenly, so you're left with dewy, glow skin and not an oil slick sitting on top of your skin.
3. THE PALMS TRICK
+ Your hands are your perfect applicator for oils and balms. Use both palms and fingers to press and massage each product in. You actually will not lose product on your hands because they warm and prepare the product for amazing penetration. Your hands are the right size and shape to reach every curve and crease of your unique face. Pressing and massaging stimulates blood flow and oxygen to your skin for increased glow.
4. THE LIGHT TO HEAVY TRICK
+ Apply products light to heavy and press each product into your skin adequately before moving onto the next product. For example, first hydrating mist, then oils, then balms. Applying products in the proper order means they penetrate fully, delivering full benefits to your skin. Better penetration equals better glow!
Pro Tip: medicated products should always be applied first, Sunscreen should be applied last.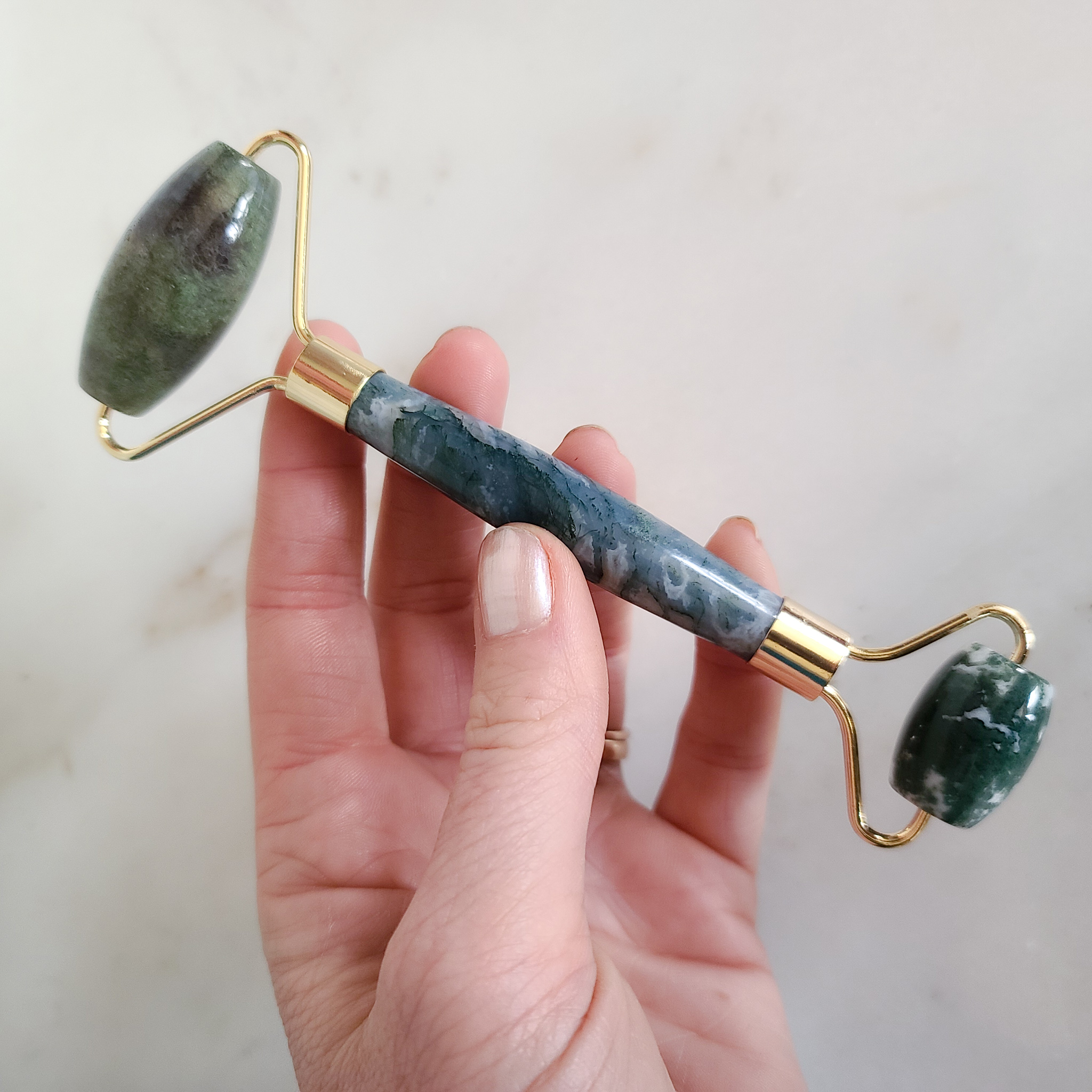 5. THE MASSAGE TRICK
+ When time permits, use a Gua Sha tool or Gemstone Roller to clear puffiness and tension, and also help products penetrate! Remember, our products work in harmony with gua sha facial massage for best results. Even a quick roller routine can increase circulation and get fluids moving so your skin can instantly look more radiant.
Read:The Complete Benefits & Ritual of Facial Gua Sha
6. THE EYE TRICK
+ Product application pressure should be feather light around your delicate eye area but take the time to work the product in. If you're massaging, keep the pressure light and work in upward/outward motions. This encourages lymphatic drainage - the purge of excess fluid and toxins that can cause puffiness and breakouts. Your eye area will appear brighter and more awake!
Pro Tip: Think of your head and neck as a funnel. Massaging your neck and lower face with a roller or gua sha tool before working on the eyes, will release any fluid congestion below and allow fluid around the eyes to drain downward.
7. THE REMOVAL TRICK
+ Our Masks are messy - but packed with highly beneficial ingredients. When removing our masks, use a soft and steamy(but not too hot!) washcloth to loosen the product and then wipe up and outward. Sometimes it takes a little time, but think of it as a massage. This warm massage will thoroughly remove impurities and dead skin cells that create dullness.... while improving circulation for that glow you are after.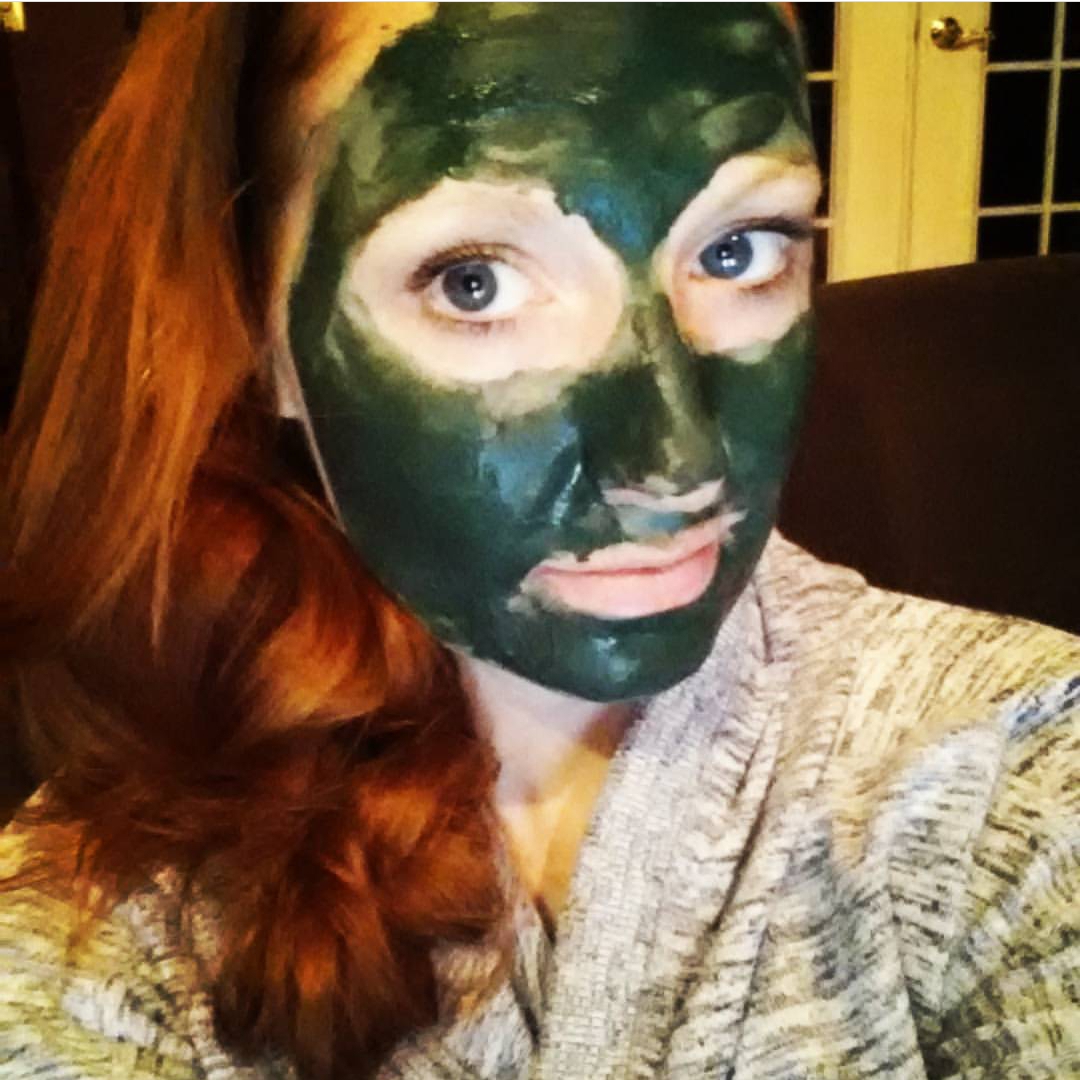 Wilder North Botanicals Founder, Marissa Masterson using our Green Goddess Clay Mask

8. BONUS TIPS
A NOTE ABOUT OILS, BALMS AND MOISTURE
Most people find that Beauty Oils and Beauty Balms completely replace conventional cream and lotion moisturizers. If this is a new idea for you, start by using your oil alone to see how your skin reacts. If you feel a bit too dry after several days of this, apply a beauty balm after each oil application. Our products are formulated to help balance your skin's moisture, so you're left feeling glowy instead of dull/dry or shiny/greasy.
A NOTE ABOUT OIL CLEANSING
Oil cleansing frequency should be determined by YOU, not by the manufacturer. This is going to be a little different for everyone and it's best to pay close attention to your skin and use your intuition. Oil cleansing is very deep and detoxifying, but also very nourishing and moisturizing. Having said that, not everyone needs to cleanse like this every day. If your skin is feeling particularly grimy, dry, dull or clogged, I recommend doing an oil cleanse. However, if your skin feels fairly balanced and fresh, you can get away with just a steamy washcloth and water... or the natural cleanser of your choice. I suggest trying every other day to every 2 days at first to find your sweet spot.
Oil Cleansing Leaves your skin deeply clean, nourished and dewy.
Learn How and Why to Oil Cleanse
---
What are the best products to use with these Tricks for an Instant Glow?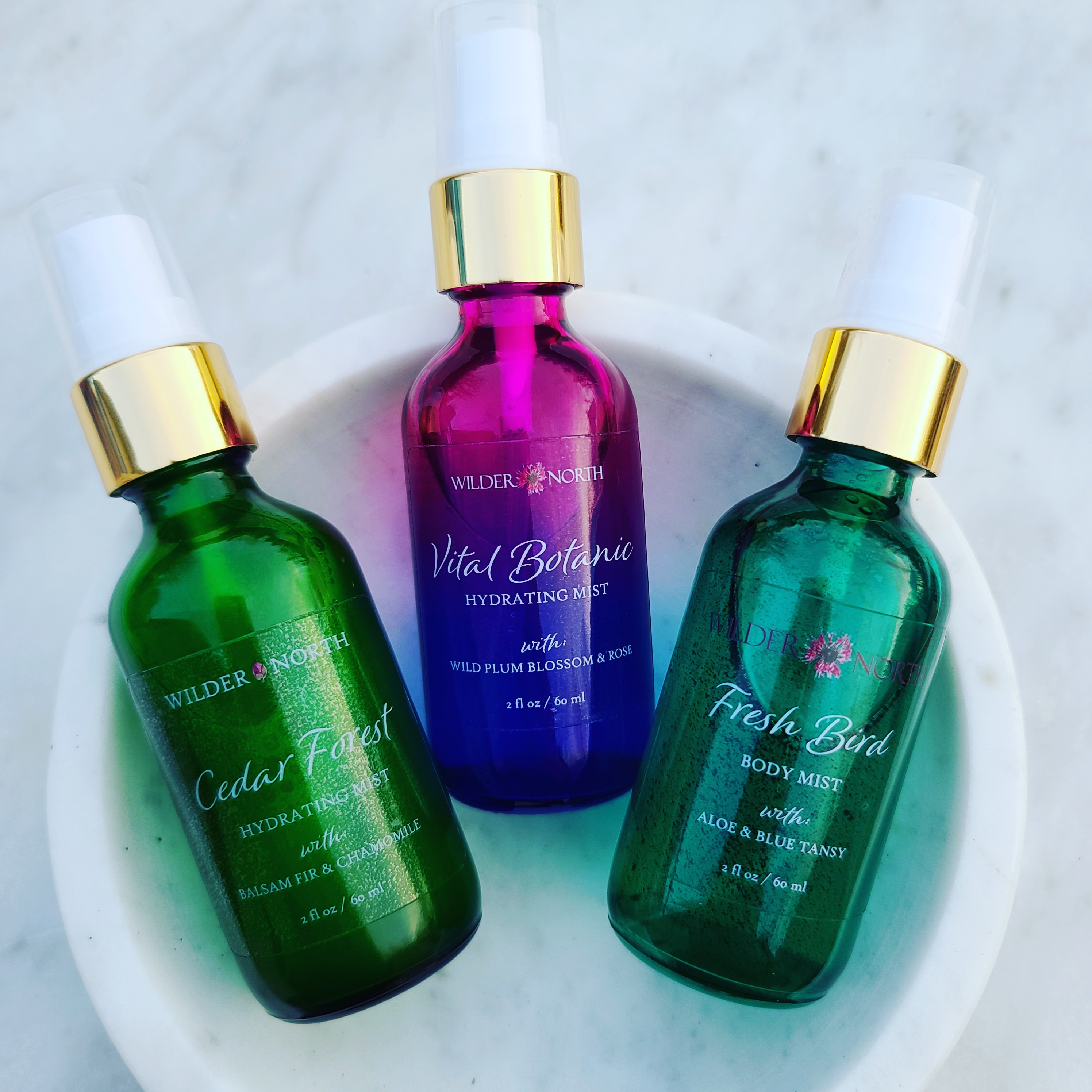 Reap the benefits of this soothing, revitalizing hydrating mist from the floral and plant actives of rose, sage, rosemary, blood orange and Wild Plum. This is much more than a basic hydration mist, each active ingredient was chosen for it's rejuvenating benefits to treat your skin like a serum treats your skin- addressing key skin concerns. The active ingredients in the Vital Botanic Mist plump and smooth away fine lines, hydrate + hold hydration to the skin, increase circulation for glow, rejuvenate, firm, tone, repair broken capillaries, and promote lymph drainage. Plumping and preparing the skin creates a smooth and conditioned surface for better gua sha results and further product penetration.
---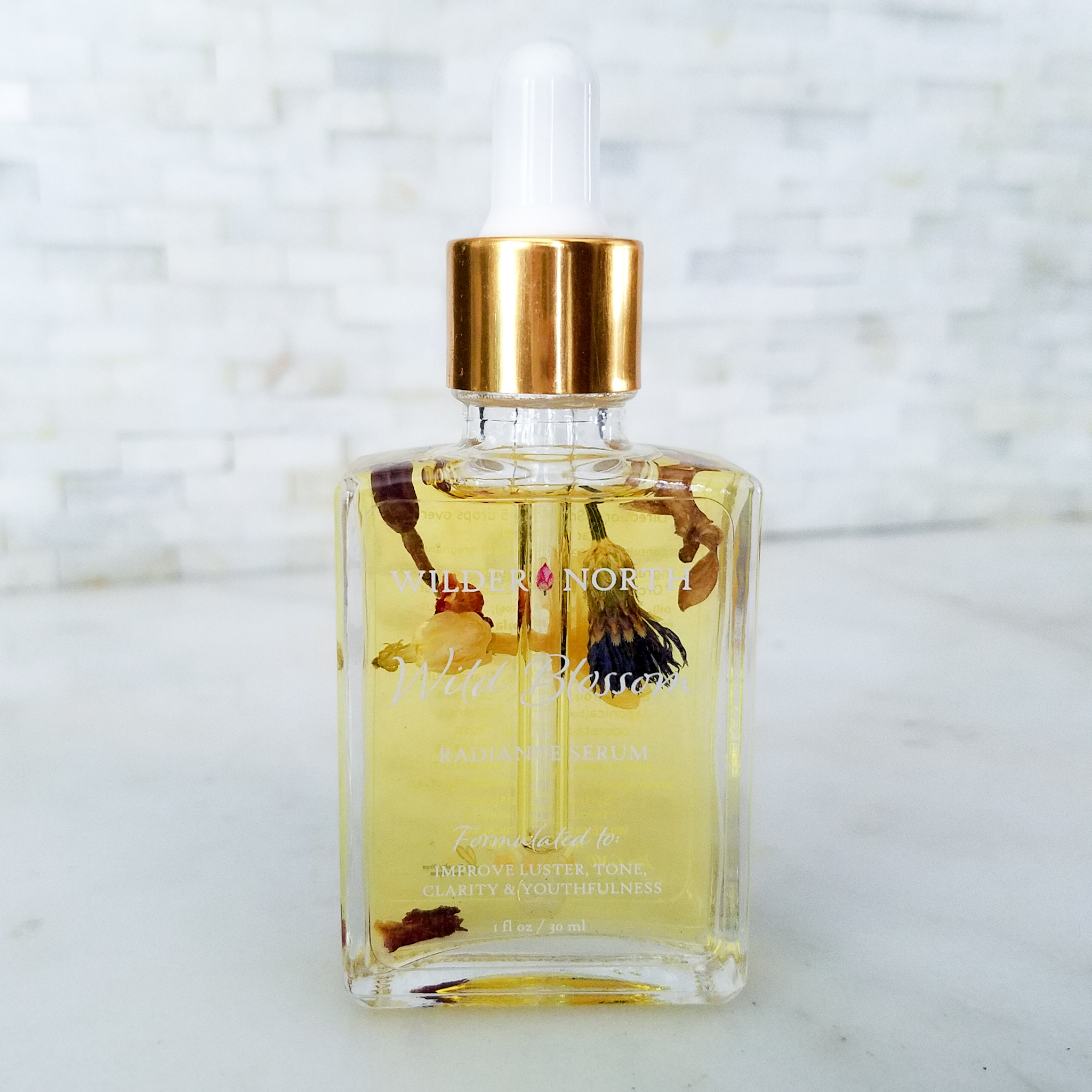 This botanical beauty is a luxury floral powerhouse blended with the finest active botanicals for a maximum skin benefits. Argan oil combats fine lines & damage, treating acne and restoring skin elasticity. The exquisite flower power, covers literally every skin ailment you encounter. The magic of orchid, pink lotus, jasmine, rose and lilac join to infuse your skin with youth, vitality and luster. This serum is a cult-favorite for everyone, of all skin-types.
---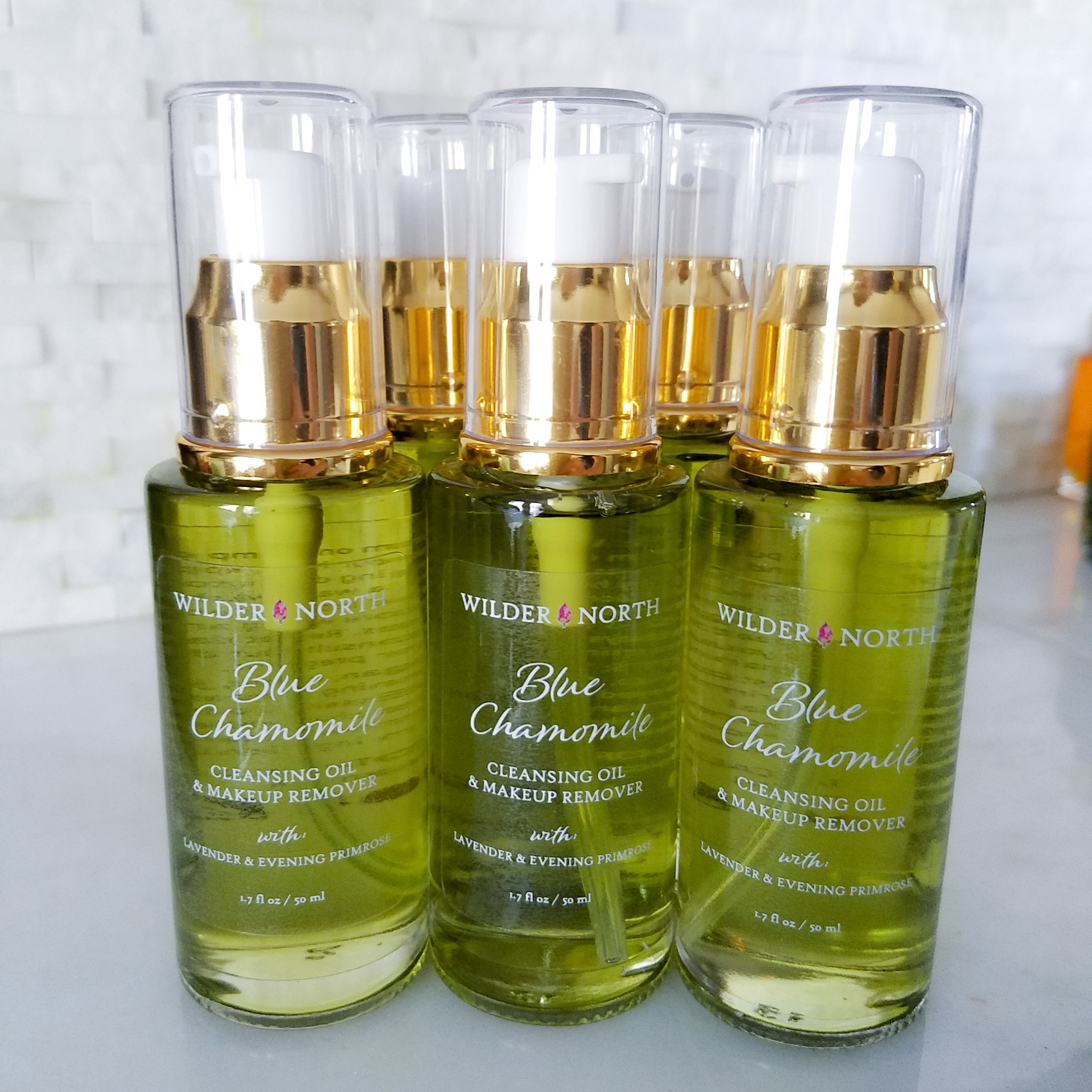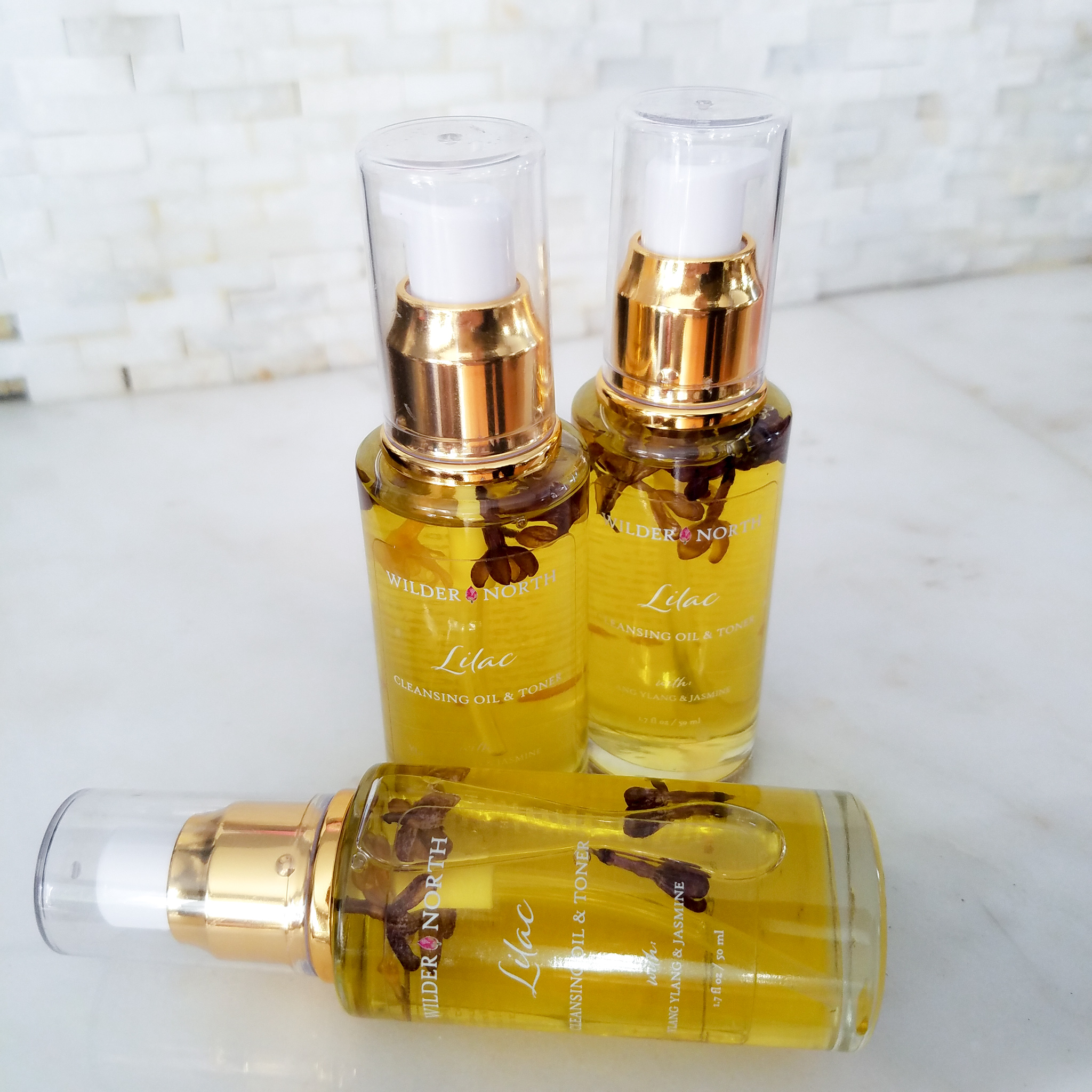 Blue Chamomile Cleansing Oil & Lilac Cleansing Oil
Our Blue Chamomile Cleansing Oil is a soothing cleanser and makeup remover for especially sensitive skin and all skin. Natural beauty oils of Argan oil, rosehip, evening primrose, castor, and grape seed oil, harmonize to deeply penetrate your skin to gently loosen sebum, toxins and dirt. Evening primrose oil is known for it's ability to reduce inflammation while the blue azulene in german blue chamomile oil is calms angry skin. Topped off with everyone's favorite soothing oil, lavender, this aromatic lullabye of purifying ingredients will deep clean even the most irritated skin and leave it feeling nourished and hydrated.
Our Lilac Cleansing Oil and toner is a pore-purifying cleanser and toner for congested skin. Natural beauty oils of Argan oil, hazelnut, castor, and grape seed oil, harmonize to deeply penetrate your skin to gently loosen sebum and impurities. Hazelnut oil is known to strengthens capillaries which can reduce the appearance of thread veins. It's moisture and sebum balancing but also promotes elasticity and skin cell regeneration while stimulating circulation for a glowing complexion. Topped off with lilac extract which has astringent and anti-bacterial properties, making it an effective skin tightening agent and toner. Also helps reduce fine lines and wrinkles and improves skin elasticity.
---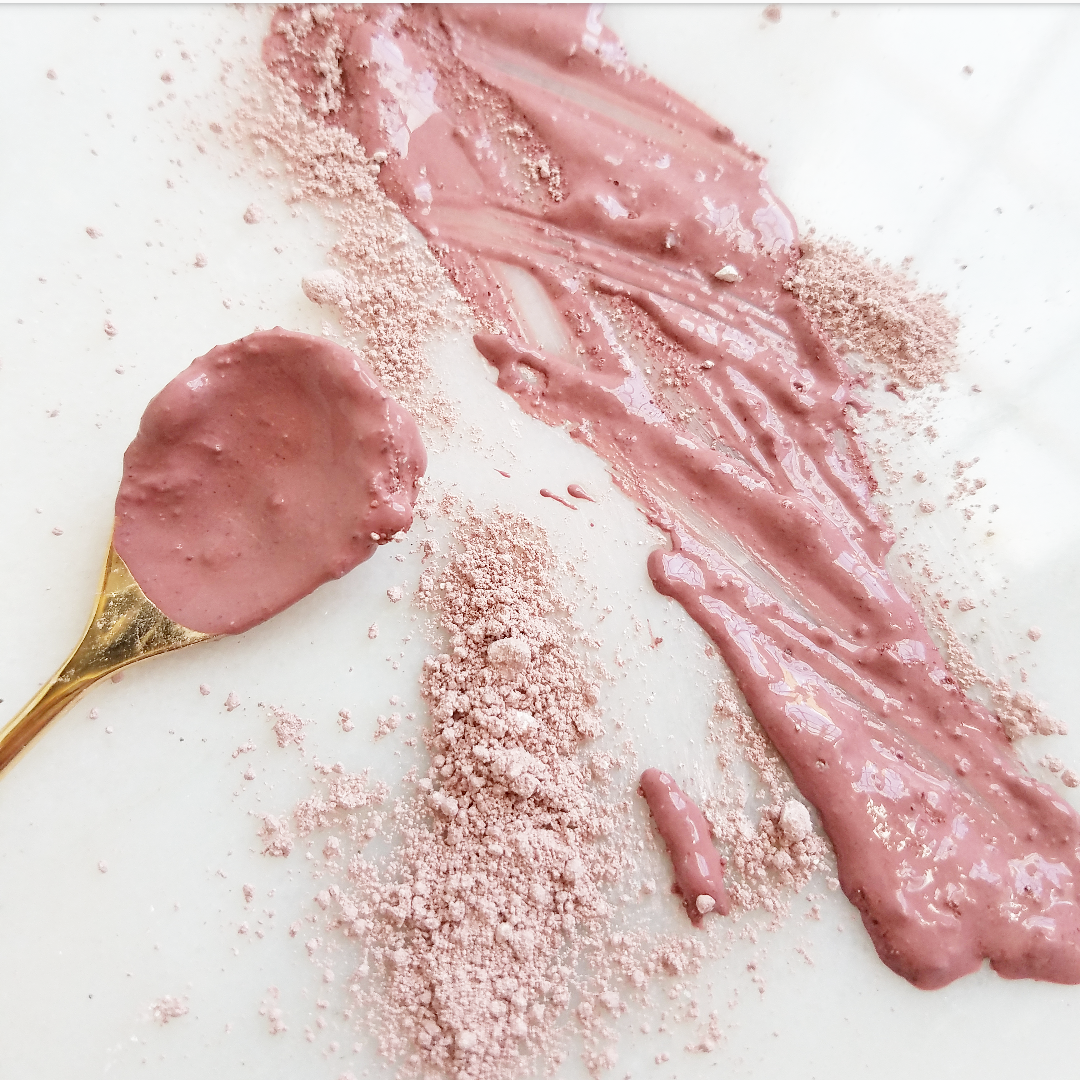 Get ready for radiant skin! Our Aurora Radiance Clay Mask is a delicate blend of rose clay and white kaolin clay that is perfect for dull, normal to dry and combination skin. Excellent for detoxification, active exfoliation and improving skin circulation! Fruit enzymes of papaya and pineapple slough away dead skin cells that can cause dullness and clogged pores. Coconut Water hydrates parched skin and matcha promotes smooth, firm-looking skin that retains moisture. Anti-inflammatory matcha can also drastically reduce darkness and puffiness by reducing the apparent size of blood vessels while soothing skin conditions like eczema and detoxifying pores. Lavender and Hibiscus flowers tone and promote skin elasticity for younger looking skin. White Peony root lightens and brightens dark spots, scars and hyperpigmentation.
---
Check the Videos below for more tips about product application
Full Facial Massage - credit Gabrielle Barry
Brow Lift Massage/Technique - credit Gabrielle Barry
Gua Sha & Roller Tutorials - credit Katie Sobelman
Makeup Removal - credit Katie Sobelman
---
Wilder North cannot be held responsible for any actions made, implied or expressed by anyone as a result of this guidance.
The above statements are for educational purposes only and have not been evaluated by the FDA. They are in no way intended to heal, prevent or treat any illness. Please consult your doctor if you are seeking medical advice.