Argan Oil is one of those skin care products that has hit the beauty industry like a cannonball with it's array of fantastic health and skin benefits and 100% natural title.
Many products that gain supreme popularity quickly are all hype, but Argan oil is a true magician. Because of its many applications, relative scarcity, and, of course, its beautiful color, argan oil is aptly named "Liquid Gold". When combined with other gifts from nature such as rose extracts, prickly pear, tea tree, and lavender, argan oil's effects can be supercharged to become the perfect application for any skin ailment.
If you have yet to try argan oil, I'm giving you 26 practical and beneficial uses plus a few easy DIY skin care recipes and ideal complimentary oils. I'm also letting you in on my secret supplier, so you can get your hands on the best 100% pure certified organic argan oil. Read on to learn the comprehensive list of argan oil benefits and score the free recipes you can easily make at home.
1. Moisturizer
Argan oil is a deeply penetrating moisturizer that won't clog pores or leave a greasy feeling on skin. It's a great choice for people with combination skin because it can effectively balance skin moisture without causing breakouts, we'll get to this more next. Massage argan oil onto face, neck, hands and entire body for all over moisture. Add a couple drops of lavender or jasmine for a relaxing aromatic experience. Unlike heavy oils and creams, Argan oil moisturizes without weighing you down.
Compliment argan oil with moisturizing mongongo oil, hazelnut oil or pumpkin seed oil:
Mongongo oil
Also known as Manketti oil, it is high in polyunsaturated fatty acids which create a protective layer on the surface of the skin and act as a barrier, holding in moisture to the skin. This diminishes the appearance of wrinkles and keeps the skin glowing. Mongongo is a sun protectant full of anti-oxidants that prevent and heal sun damage. It's high in lineolic acid which is beneficial for the treatment of acne and moisture balance. It reduces inflammation which can calm eczema, acne and allergenic skin sensitivities.
Hazelnut Oil
Hazelnut oil strengthens capillaries which van reduce the appearance of thread veins. It's moisture and sebum balancing but also moisturizing. It's rich in fatty acids and is quickly absorbed by skin. It promotes elasticity and skin cell regeneration while stimulating circulation for a glowing complexion. It has a natural SPF of around 15.
Pumpkin Seed Oil
Pumpkin seed oil is packed with vitamins and nutrients for a wealth of beauty benefits. Zinc and vitamin C promote collagen production and fight acne. It's also a potent source of vitamin E which works against free-radicals which cause premature aging. Pumpkin seed is loaded with essential fatty acids that help to balance skin moisture without leaving an oil slick. This oil naturally exfoliates skin cells to reveal fresh, new skin. The anti-inflammatory properties of this oil soothe and protect skin from irritating conditions like eczema and allergies.
2. Acne Treatment
I first started using argan oil for it's acne treatment benefits when I struggled with hormonal acne; and it's proven to be fantastic. It has a high linoleic acid content reduces inflammation caused by acne, infections, rashes, and bug bites. People with acne-prone skin tend to have a low percentage of linoleic acid compared to their oleic acid level in their natural skin oil. Studies have shown that increasing the amount of linoleic acid in the skin will reduce acne. Blend argan oil with a few drops of tea tree oil, frankincense, lavender or rosemary before applying to acne blemishes, which will supercharge the oil's anti-acne benefits. Pairing argan oil with anti-bacterial and anti-fungal essential oils plus my favorite anti-acne oil, hemp seed oil. Hemp seed oil is the master of balancing skin's sebum production, so it's an obvious partner for argan oil.
Some other acne-fighting oils to consider:
Hemp seed oil
This beauty oil is fantastic for restoring harmony to inflamed, angry skin. It's high in linoleic acid which naturally occurs in our own skin sebum. Linoleic acid keeps sebum moist and fluid, making it easier to flow out of your skin and prevent clogged pores. Hemp seed oil can reduce inflammation and dryness, even skin tone and is proficient at treating acne. I always include this oil in my acne formulations.
Frankincense
This ancient essential oil has been used medicinally for thousands of years and is sourced from the resin of the Boswellia tree, commonly grown in Somalia. It is a powerful astringent which speed sup the healing of acne, protects skin from bacteria and lifts & tightens. Frankincense will fade scars, controls sebum production, tones uneven skin, promotes cell regeneration, reduces fine lines and wrinkles and moisturizes dry skin.
Lavender
Lavender is the most commonly used essential oil. It's high in anti-oxidants and improves mood and brain function. It's anti-inflammatory qualities heal acne, sunburn and allergenic skin conditions. Lavender is extremely healing, regenerative, antibacterial, and astringent which efficiently treat oily skin prone to acne. It's also beneficial for irritated, damaged skin, dilated pores, scars, stretch marks and dark spots.
Rosemary
Rosemary oil has antimicrobial, anti-inflammatory and antiseptic properties that help reduce eczema, dermatitis and acne. It also rehydrates and tones skin while fighting wrinkles.
Tea Tree
The most common and well known use for tea tree oil is the treatment of acne. It's powerful antiseptic, anti-fungal, and anti-viral qualities encourage healing. Unlike benzoyl peroxide, it doesn't cause redness and peeling but it's equally as powerful. It's also effective against inflamed skin issues such as eczema and psoriasis.
Maca Root
Maca is considered to be very beneficial for hormonal balancing due to it's high content of amino acids, which are the building blocks of hormones. Because maca is a food and not an herb or drug, it has no known side effects and is easy for the body to process and absorb.
Do you have hormonal acne? Maca might be your new best friend, read more...
3. Anti-aging
Argan oil has fantastic anti-aging benefits. High levels of vitamins A and E in argan oil rejuvenate and promote skin cell restoration. Tocopherol, found in vitamin E, increases cell production to reveal new, youthful skin and, improves skin elasticity, something we lose as we age. Argan oil's Vitamin A is fantastic at reducing wrinkles and smoothing rough skin. However, strong sunlight can inactivate many forms of vitamin A, so make sure you apply before bedtime to maximize your benefits. Rosehip seed oil is another fantastic anti-aging oil you could blend with argan oil to maximize her benefits. Looking for an anti-aging essential oil to add to the mix? Try helichrysum, neroli, rose or
Rosehip seed oil
Known to skin tissue, including acne, burns, and stretch marks. It is high in essential fatty acids, Vitamin A and Vitamin E which promote healthy skin, promote collagen and elastin levels and regenerates skin cells. It's a perfect oil for deep wrinkles, dermatitis, eczema and psoriasis. Make sure you buy unrefined, cold pressed rosehip oil.
Prickly Pear seed oil
This fairly new beauty oil contains 150% more vitamin E than Argan oil, in fact it contains the most of all the beauty oils. Prickly pear is quickly and easily absorbed by skin due to the high content of linoleic acid. It penetrates deeply and doesn't leave skin greasy. Prickly pear also improves elasticity, prevents wrinkles and stimulates cell renewal with it's high content of anti-oxidants from Betelains. Betelains are super-anti-oxidants with powerful anti-aging effects, commonly found in acai, gogi berries and blueberries. It reduces hyper-pigmentation and dark under-eye cricles due to the vitamin K. Prickly pear seed oil is an intensely moisturizing oil, perfect for very dry or mature skin yet will not clog your pores because of the high linoleic acid content. It's also non-irritating for sensitive skin!
Helichrysum
The flavanoids in helichrysum are effective against bacteria and irritating skin conditions such as eczema. It can also block UV damage that causes aging. It has strong anti-bacterial, Anti-inflammatory and anti-microbial properties that heal acne, redness and inflammation. Helichrysum is highly regenerating and healing, great for mature skin, wrinkles, cellulite, acne, dilated pores, stretch marks and circles under the eyes.
Neroli
This favorite of mine is an intoxicating cross between floral and citrus scents. It is made from the delicate flowers of the bitter orange tree that are hand-picked and handled with great care. It's fantastic for mature and sensitive skin because it repairs skin at the cellular level. Neroli tones the complexion and improves elasticity which diminishes wrinkles, scars and stretch marks. It's highly regenerative, calming, improves circulation, balances oily skin and calms sensitive skin with it's anti-microbial properties.
Rose
This valuable oil has among the strongest anti-bacterial qualities compared to other oils. It's extremely beneficial for mature, wrinkled, dry and sensitive skin. Rose is ultra regenerative, healing, firming, toning and anti-inflammatory. It has the ability to repair broken capillaries and restores moisture. In addition, when mixed with other beneficial oils, it makes skin more permeable for the other ingredients.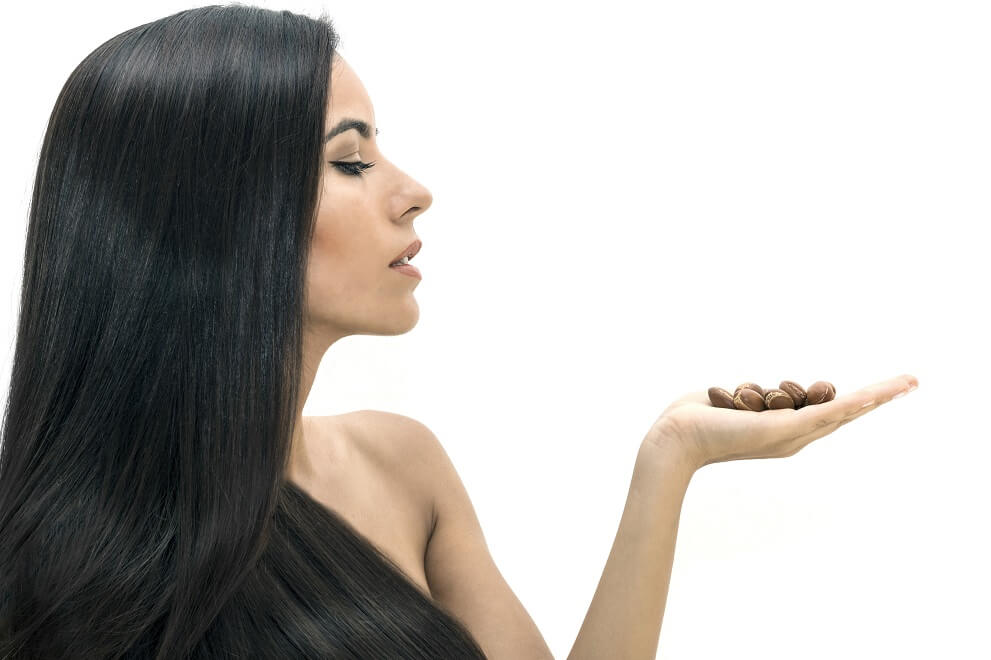 4. Hair Conditioner
One of Argan oil's claims to fame is it's ability to deeply condition hair. Argan oil provides moisture, prevents breakage, and enhances shine and texture. Apply a few drops of argan oil to the tips of hair as a leave-in conditioner or to tame frizzy fly aways. Rub a small amount of argan oil into your scalp as an overnight treatment for to eliminate a flaky scalp and wake with shiny locks. Want ultra shiny hair? Try adding chamomile essential oil to the mix for shiny hair and soothed scalp. Your luscious locks will be bouncing and people will be asking you if you just came from the salon.
5. Burn Healer
Burns from steam, fire or sun can heal more quickly with argan oil. Argan oil restores and heals skin and keeps burns moisturized so your skin can heal efficiently. Just make sure you get checked out by a doctor first, for anything more than a sunburn!
6. Cuticle Oil
Argan oil can smooth, moisturize and heal ragged and dry cuticles. Rub a few drops into your cuticles and gently snip away any ragged edges with cuticle clippers. Work argan oil into the soles of your feet and give yourself a home pedicure!
7. Rash Treatment
Argan oil has anti-inflammatory properties due to it's high content of linoleic acid. It can effectively turnover new skin cells and reduce inflammation caused by allergic issues. Next time you or your child get a little rash, smooth some argan oil on it and watch it clear up by morning. To boost the anti-inflammatory benefits, use argan oil in combination with blue tansy, blue chamomile, or blue yarrow essential oils. More on those fantastically soothing blue oils in #9. We like to infuse our argan oil with calendula for it's soothing properties, a blend that goes into our Bunni Balm Baby Ointment.
8. Bug Repellent and bug bite care
Mixed with certain essential oils, Argan oil makes a skin-soothing and conditioning bug repellent. Argan oil soothes and moisturizes skin while the essential oils deter mosquitos and ticks. Try the 100% natural recipe below
Argan Oil Bug Repellent Recipe
Combine the following in a pump bottle:
30ml Argan oil
6 drops citronella oil
6 drops grapefruit oil
6 drops lemon eucalyptus essential oil
3 drops of lavender essential oil
2 drops of geranium essential oil
3 drops ginger essential oil
For external use only
9. Eczema Treatment
If you have eczema, dermatitis, psoriasis or any other sensitive skin inflammation, you should definitely add argan oil to your beauty routine. It's anti-inflammatory properties work wonders to reduce these conditions while giving you all the wonderful benefits of anti-aging, moisture and acne treatment. Combine argan oil with super-soothing blue tansy or blue chamomile oil and you have a powerful inflammation soothing product.
Dermatologists will no doubt push topical medications, corticolsteroids and more, but I suggest letting nature take the reighns. There are a number of natural, plant-based ingredients in addition to argan oil that are anti-inflammatory, ant-allergenic and soothing to sensitive skin. The first that come to mind are the class of blue essential oils that contain azulene. These blue oils are among the most powerful naturals for healing eczema. In addition to the blue oils, there are a number of carrier oils and essential oils which reduce inflammation. Using these oils in combination can greatly help to manage the symptoms of your eczema, psoriasis or dermatitis, reducing redness, itching, flaking and discomfort.
Blue Tansy
One of the most popular and rare oils today, Blue Tansy has a warm and herbaceous fragrance that encourages relaxation. In addition to being an aromatic relaxant, blue tansy has analgesic, anesthetic, anti-viral, anti-fungal, anti-inflammatory, and anti-allergenic properties which neutralize and stop histamine production to help reduce skin reactions to allergens... it's ultra soothing for the skin. It's useful for itchy dry skin, bruising, dermatitis, damaged, inflamed, and sunburned skin.
Blue Yarrow
This sweet aromatic herbal is one of the most powerful natural astringents. It shrinks the skin and promotes skin healing making it fabulous for acne and inflammation. It is a powerful anti-oxidant, anti-inflammatory, anti-microbial and antiseptic but is also helpful at regenerating skin cells.
German Blue Chamomile
This beneficial essential oil is a cousin of the daisy, known to be gentle and relaxing. It penetrates deep into the layers of your skin where its concentrated anti-inflammatory properties can restore and soothe irritated skin, burns, and other angry conditions. German chamomile oil has anti-fungal, anti-inflammatory, and antiseptic properties making it perfect for sensitive skin prone to inflammation and breakouts.
Read more about naturally healing your eczema or sensitive skin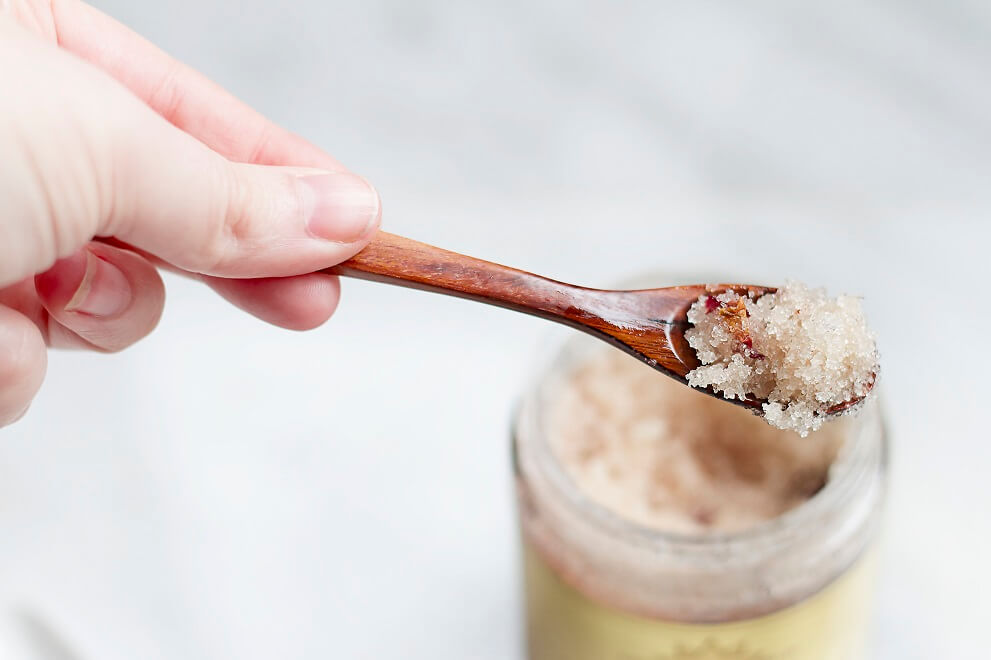 10. Exfoliant
Argan oil in combination with sugars, salts, or clays can create a nourishing exfoliating product for your entire body. Exfoliation is a key part of skin health, sloughing off dull, dead skin cells and purging toxins to reveal your beautiful new skin. Argan oil will deeply penetrate the newly opened pores and moisturize which will make your skin will glow with vitality.
Sugar Scrub
Combine the following in a jar and use 2-3 times per week for healthy skin
30ml argan oil
25 drops essential oils of your choice - grapefruit, rosemary, lemon and citrus are all uplifting and detoxifying.
approximately 30-45ml organic sugar. You can eyeball this part and make the mixture as dry or liquidy as you prefer.
Blending argan oil with pure clays is another fantastic way to gently exfoliate your skin.
Rose Clay
Rose clay gently cleanses, exfoliates, rejuvenates skin, reduces skin irritation and helps to reduce skin inflammation, ideal for normal to dry skin types as well as sensitive skin types since this clay mixture does not draw oil from the skin. It also helps in stimulating circulation.
French Green Clay
popular in masks for oilier skin types even acne - prone skin types. It is one of the most powerful absorbent clays due to its micro molecules, it is also one of the most stimulating and toning. It stimulates the skin by drawing blood to the surface of the skin boosting circulation and giving the skin a light tingling sensation.
11. After sun care
A day in the sun can destroy much of the skin's natural vitamin E content, but an application of argan oil after sun exposure will prevent the UV light from damaging your skin. Argan oil is packed with vitamins A & E which will regenerate skin cells rapidly. Argan's non-comedogenic moisture and anti-inflammatory qualities will quell the burn and keep parched skin from drying out after a sun burn. Try blending argan oil with coconut oil for an after-sun butter or use argan in combination with raspberry seed or pomegranate oil to protect skin while under light UV rays
Some of my favorite damage-healing oils to compliment Argan oil, include tomato seed oil, raspberry seed oil, macadamia and sesame.
Raspberry seed oil
Raspberry seed oil is high in vitamin E which is a potent antioxidant that reduces free radicals that cause premature aging. It has natural sun protection comparable to titanium dioxide with a SPF value of 28-50 for UVB rays and 6-7.5 for UVA rays UVA rays cause aging and skin cancer. It's packed with vitamin A which heals UV damage and repairs the skin cells. Raspberry seed oil is high in linoleic acid which is anti-inflammatory and helps with skin cell regeneration as well as reducing clogged pores and acne. Ellagic acid can reduce collagen destruction and protects against UV damage and skin cancer. The phytosterols present in this beauty oil promote new collagen production for younger skin.
Sesame Oil
Sesame seed oil is high in vitamin E and Zinc, which is an essential mineral to produce collagen. It's also high in vitamin D and B complex which make it a great scar and rash treatment. It's anti-inflammatory and anti-bacterial and has been said to actually prevent the growth of cancer. Sesame oil contains an anti-oxidant called Sesamol which prevents wrinkles and aging. It also can form a protective film over the skin to protect from sun damage, that combined with the vitamin E makes it an effective sun protectant.
Macadamia Nut Oil
This nutrient-dense oil has an SPF of about 6 and is packed with antioxidants and essential fatty acids that protect your skin and promote healing following sunburn or other types of skin damage. As an added bonus, macadamia oil mimics your skin's natural oils, making it an ideal match for maintaining your glow.
Tomato Seed oil
Extremely high in anti-oxidants, it's a celebrated remedy for sun damage, wrinkles and age spots. treats skin conditions like psoriasis and eczema
12. Stretch Mark Prevention
Stretch marks are indented streaks or lines on the skin, often red, pink or purple, which may fade to a lighter color. They most often cover the abdomen, breasts, hips, thighs and buttocks.
Argan oil can improve and prevent stretch marks by promoting skin elasticity and suppleness. Rub argan oil on areas that are prone to stretch marks, such as belly, hips and thighs. Doing so regularly can prevent stretch marks and the overall condition of your skin. Looking for the ultimate belly butter or stretch mark cream? Add some other elastic promoting ingredients like prickly pear seed oil, marula oil, rosehip seed oil or neroli essential oil to prevent stretch marks from happening.
More on natural stretch mark prevention
13. Nursing Ointment
If you've ever breastfed a baby, you know what a toll it can take on your fragile nipples. It's even more so for fair-skinned mother's like me who have skin is sensitive. A combination of argan oil, beeswax, coconut oil and lavender can be very soothing to ultra irritated nipples and promote healing more quickly. I don't recommend using this if you plan on nursing soon after because we don't want baby ingesting it, but if you have at least 6 hours over night, this blend can really be a savior.
Beeswax
When applied to the skin, beeswax creates a protective barrier on skin, holding in moisture and reducing dryness. Beeswax has powerful anti-bacterial properties to keep skin clean and ward off acne. Beeswax attracts moisture which in turn will keep your skin hydrated as well as being high in Vitamin A which helps skin cells to regenerate keeping you looking youthful. The anti-allergenic properties of beeswax soothe dry, itchy, irritated skin related to dermititis or eczema.
14. Cradle Cap Treatment
Newborns sometimes get a crusty, flaky condition on their precious and fragile baby heads called cradle cap. Although it's nothing to worry about and generally goes away on it's own with time, you can give your baby a little scalp treatment to encourage healing and condition her sensitive skin. Gently rub a few drops of argan oil into your baby's scalp and let it soak in for at least 5 minutes, then rinse with luke warm water and use a soft comb to peel off any areas of cradle cap that look ready to go. You need to be extremely gentle and don't force, pick, or scratch the fragile skin or scabs. The argan oil acts as a softener which should help and also make the baby's head feel less itchy. Be careful not to get any in her eyes.
15. Foot Soak
Dry feet aren't pretty. You can use argan oil to make either a foot soak or a steam treatment for super soft feet!
Foot Soak
Fill your tub or a basin with steamy water and add 1 tablespoon of argan oil + a few drops of lavender or tea tree + 1 tablespoon of himalayan pink sea salt. Soak your feet for 5 minutes to soften skin, release toxins, and eliminate bacteria. Pat dry and massage more argan oil into your feet before bed.
Foot Steam Treatment
Slather your feet with a combination of argan oil and lavender or tea tree oil. Wrap both feet with a steamy towel and let the steam work it's magic with the oil for up to 15 minutes. Your feet will be silky soft!
16. Razor Burn & Bump Treatment
Again, if you're a redhead like me, your fair complexion doesn't do well with abraision and can result in painful razor burn or ingrown hairs. Argan oil makes the perfect after-shave oil because it calms down that angry inflammation and rapidly heals abraised skin. I like to slather on argan oil or argan-based body oil after a leg shave since I have really dry skin.
17. Lip Conditioner
Pucker up! Argan oil soaks deeply into the thin skin on lips to keep them moist, supple and plump. Combine argan oil with beeswax and you have a moisture-drawing/holding treatment that also protects lips from the elements. Add a few drops of vanilla or sweet orange to make it yummy.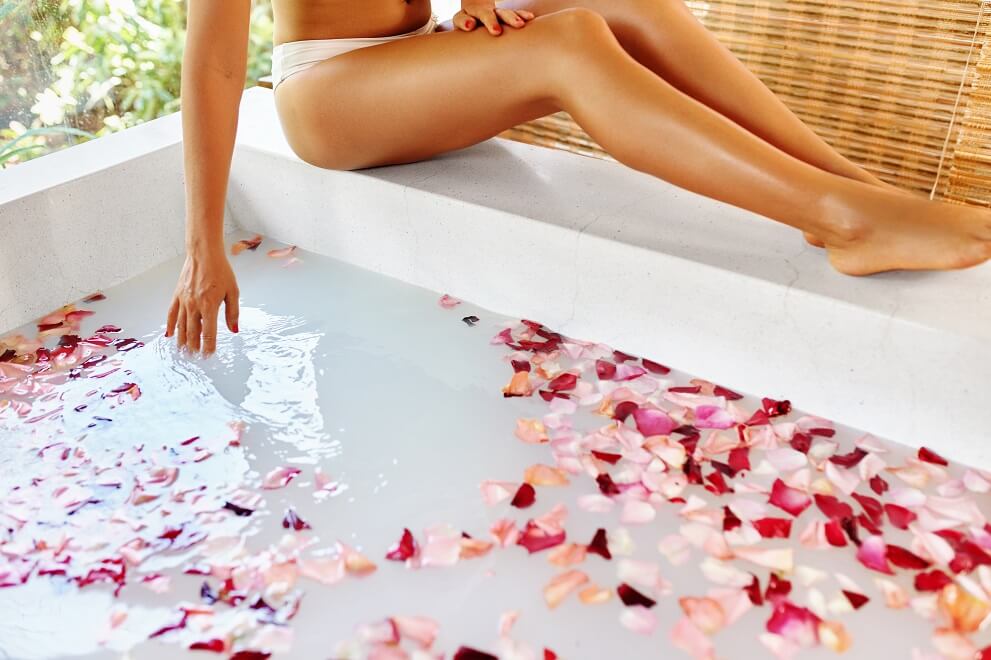 18. Bath Oil
I adore putting oils in my bath for a spa-like experience. Argan oil is my top choice because it soaks into skin so well and feels light weight on your skin as you dry. Try adding some luscious dried flowers like rose petals or lilac which will boost argan's reduction of lines and wrinkles and also create an aromatic steam that will open your pores. To get really luxurious, include a few drops of lavender or jasmine essential oil, which will relax your entire body and senses.
19. Dry hand repair
Severely dry hands sometimes need more than lotion can provide. The deeply penetrating moisture benefits of argan oil can heal dry hands and even decrease the wrinkles that often come with dryness. Rub argan oil into your hands at least twice per day, including at night when skin does vital repairs. For winter time, melt your own blend of argan oil and beeswax. The beeswax will help skin retain moisture and protect it from the elements. Put on a pair of gloves and sleep while this blend works her moisturizing magic. Don't forget your elbows, knees, shoulders and feet!
20. Scar Fading
Argan oil's high content of linoleic acid can help reverse those dark sun-spots on the face and reduce the appearance of scaring from acne. We also infuse white peony root into our argan oil which contains natural tannins that brighten and lighten skin tone. Supercharge the skin-brightening affects by also using papaya seed oil, lemon, marula oil, sesame seed oil or fuller's earth clay.
Marula oil
This oil is a great companion to argan oil because it picks up where argan leaves off. Not only does marula oil diminish fine lines and wrinkles, but it promotes elasticity by stimulating collagen production. It is also great at reducing the appearance of scars and pigmentation. High in vitamin C & E, it's loaded with anti-oxidants and boots skin natural ability to regenerate.
Skin Brightening serums & masks
21. Wound Healing
Argan oil can speed up the healing process of cuts and wounds by regenerating skin cells and soothing inflammation. I recently got some nasty scrapes and healed them almost completely within just 1 week by using argan oil and blue tansy.
22. Toner
Some toners can be drying or too harsh for sensitive skin. You can use argan oil to soften those affects by adding a few drops of argan to your toner OR making your own toner. Steep a tea bag of green tea and add a few drops of argan oil. Use this argan oil and green tea toner to keep skin from getting that tight and dry feeling that water based toners so often create.
Matcha Green Tea
Matcha is an amazing anti-inflammatory that promotes the healing of skin conditions like eczema, roscacea and acne. The extremely high content of anti-oxidants help protect skin from environmental pollutants and extreme weather conditions. The high amount of EGCG antioxidant in matcha slows signs of aging, promoting smooth, firm-looking skin that retains moisture. Chlorophyll makes matcha a strong detoxifying agent, cleansing the body's entire system of toxins and toxic chemicals or other impurities, leaving the skin glowing and radiant. The EGCG in matcha can drastically reduce darkness and puffiness by reducing the apparent size of blood vessels.
23. Under eye circle and puff correction
Although under eye bags, darkness or puffiness can often be genetic, from stress, exhaustion or other factors, argan oil can help lessen the look of them. Argan oil's vitamin E is a great anti-oxidant that promotes skin elasticity as well as reduces fine lines which can come as a result of under eye circles. For even better results, infuse your argan oil with gunpowder green tea or matcha tea, which can help tighten capillaries that often make under our eyes look dark.
Combine with Argan's friends, chia seed oil, cucumber seed oil or pomegranate seed oil
Chia Seed Oil
Helps increase skin hydration, soothes itchy skin, and fortify skin barrier function, reducing the appearance of wrinkles and leaving skin soft and smooth. Considered the richest botanical source of omega-3 fatty acids found in nature, these fatty acids work to encourage skin's natural formation of collagen and elastin, which support skin structure and shape and help discourage sagging and bagging. They also help maintain moisture levels, which hide fine lines and wrinkles as well as relieving irritation and dryness. Chia seed oil is also a great source of vitamin B3, a natural anti-inflammatory, and zinc, which helps promote healthy skin oil production thus reducing acne breakouts.
Cucumber Seed Oil
Cucumber seed oil contains a high amount of phytosterols which help restore proper moisture which naturally promotes elasticity and smoothness. Promotes healthy skin renewal. The soothing properties of cucumber seed oil help to reduce inflammation and apperance of puffiness. Vitamin E content helps prevent free-radical damage that can cause premature signs of aging, fine lines and wrinkles.
Pomegranate Seed Oil
Anti-inflammatory, moisturizes dry skin, renews appearance of aging skin, high in anti-oxidants and vitamin C, anti-microbial, anti-carcinogenic, extremely high in punicic acid which helps to soothe inflamed skin and improves skin tone & look of elasticity.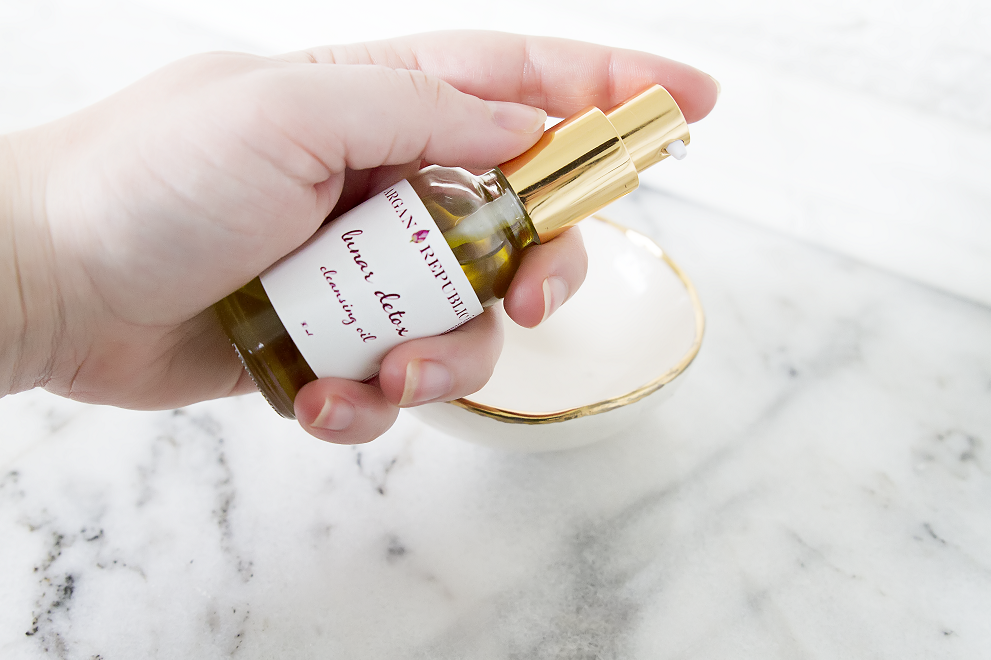 24. Face Cleansing
The oil cleansing method is becoming more mainstream because people are realizing it really works wonders to detoxify your skin and clear up congestion. Argan oil is a fantastic oil cleanser since it absorbs so easily; combine it with a teeny bit of castor oil which pulls toxins out of skin and you have an ultra detoxifying yet nourishing cleansing oil.
Directions to oil cleanse:
Pump a dime sized amount of oil into the palm of your hand, rub both hands together to warm the oil and apply to your face, massaging deep into your pores to dissolve impurities.
Focus on your problem areas and take your time, letting the oil work in deeply to loosen debris and hardened sebum.
Run your washcloth under hot water and wring it out letting it cool a bit but still steamy and warm.
Gently hold the washcloth over your face and let the warmth penetrate your pores before wiping and repeating 2-3 times.
Other popular skin cleansing oils to consider:
Castor Oil
Castor oil is highly acclaimed for it's detoxification, anti-inflammatory and anti-microbial properties. It moisturizes the skin while reducing acne and reducing pigmentation. Castor oil prevents stretch marks and helps to fight signs of aging by stimulating the production of collagen and elastin. It's high concentration of fatty acids restore hydration and remove dry patches while also penetrating scar tissue and encouraging new skin cell regeneration.
Grapefruit oil
Grapefruit oil is rich in antioxidants and vitamin c making it an effective anti-aging oil. It can increase the production of collagen, promote lymphatic drainage to help flush the body of toxins, and helps regenerate skin cells.
25. Cellulite Reduction
Cellulite is such a frustration for so many women. Massaging argan oil into area of cellulite, such as thighs, hips and butt and gradually lessen the appearance. Argan oil helps to keep skin supple and elastic which is important in order for our skin to be pulled taut. The same oils that work magic on stretch marks, like neroli and prickly pear, will help cellulite become less visible by making the surface of your skin smooth and healthy.
26. Culinary Oil
The Moroccan people have long used argan oil as a food ingredient. Argan oil is used regularly as a dip for breads and salad dressings due to its nutty flavor and healthy fatty acid content. Much like olive oil, consumption of argan oil has been associated with combating obesity, cardiovascular diseases, and cancer prevention.
Source the best argan oil
Argan oil benefits are plentiful and magical but not all argan oil is created equal. It's important to make sure that you are purchasing certified organic argan oil, free of other additives. I cannot tell you the number of times I've picked up a product that says "Agan Oil" on the front and realized it's a combination of oils on the back ingredient list. Not cool. Not cool.
For the highest quality, pure, Moroccan, certified organic argan oil, visit Organic Infusions.
Experience all the benefits of argan oil through one of our 40+ natural skin products at Argan Republic.
_______________________________________________________________________________________________
Argan Republic cannot be held responsible for any actions made, implied or expressed by anyone as a result of this guidance.
_______________________________________________________________________________________________
The information on this website has not been evaluated by the Food & Drug Administration or any other medical body. We do not aim to diagnose, treat, cure or prevent any illness or disease. Information is shared for educational purposes only. You must consult your doctor before acting on any content on this website, especially if you are pregnant, nursing, taking medication, or have a medical condition.