Happy winter solstice beauties! Tis the season for facial oils and creams galore. If there is one product you are going to want to ring in the New Year with it's the beauty balm. This game changing multi-tasking beauty product is something you're going to want wrapped in a bow. Have you made a skin care list? Checking it twice? Glowing Skin. Check. Improved Hydration levels. Check. Multi use product. Check. Product of 2017. Check. On your wish list. Check.
I started using balms this summer. To my surprise it's not heavy like you may think. The size of a pea is all your need for your face and neck. This is a product you want to use to seal up all your serums and oils. They glide on your skin like silk and leave you glowing. Don't forget your pout when applying this product too.
Argan Republic has four beauty balms to choose from. They are all cruelty free balms and two of the four are vegan. Every girl loves options right? Too many choices are never a bad thing. Well sometimes in skincare it can confusing right? What one would be best for me? Well say no more. I'm going to break down each balm for all skin types and concerns. While reading think about your skin. How is it feeling right now? Dry, irritated, breaking out, hormonal, dull, or aging? I've got a balm for that.
Blue Serenity Beauty Balm (Vegan)
This balm is for beauties for sensitive, stressed, blemished, and aging concerns. A dreamy blue hue to calm your skin. Blue Tansy essential oil has anti-inflammatory properties to calm flared skin. Blue Yarrow essential oil provides anti-oxidant, anti-inflammatory, antimicrobial and antiseptic benefits. A key ingredient to fight blemishes and inflammation. Let the light scent of jasmine and lavender infuse your senses and treat blemishes and restore elasticity. "After using this balm overnight, I woke up to find my whole face smooth and hydrated and the dry patches on my nose gone! I also find the smell very relaxing and calming and it has kept my breakouts at bay." If you suffer from red, irritated, acne prone skin this is the balm for you.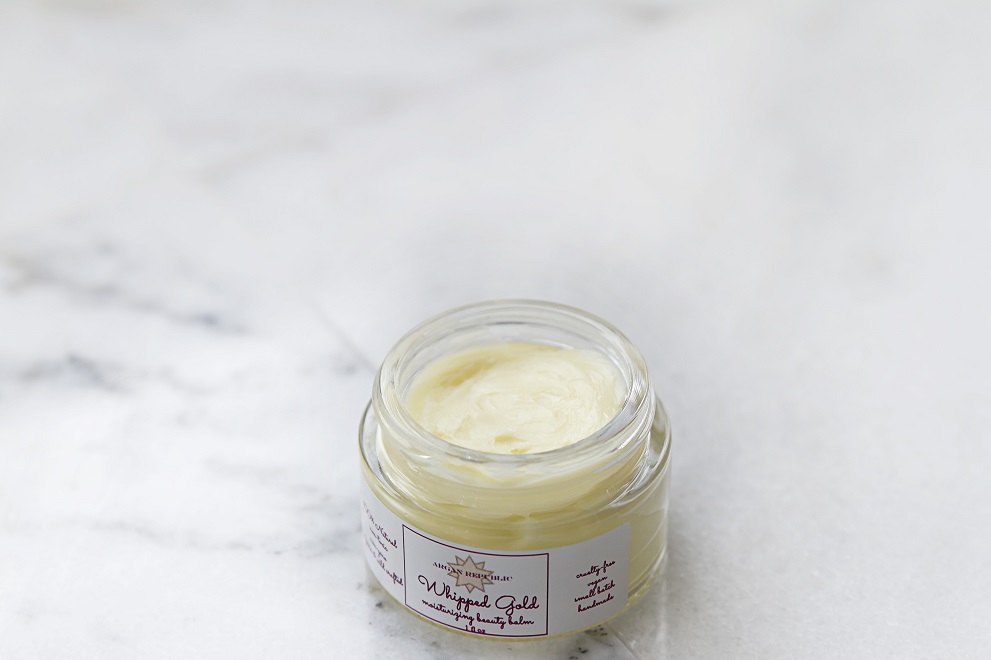 Whipped Gold Moisturizing Beauty Balm (Vegan)
An anti-aging balm to give your skin serious moisture. With 14 active botanicals and ingredients like argan, jojoba, avocado, maracuja, almond, sesame, and rosehip seed oil you are in for a serious treat. When I think of this balm I think of anti-aging luxury product. Essential oils of lavender, geranium, and neroli are used for the benefits of healing, wrinkles, scars, while caring for mature skin. Vitamin E can be found in this jar of bliss as a free radical fighter to ensure ageless skin for years to come. The best prevention is being dedicated to a product ritual that soothes your skin and fill your soul with self-love.
The next two balms contain beeswax. All the bee ingredients argan republic uses are free from pesticides, chemicals and antibiotic free. If you would like to read more about the process please visit this link. Honey Bee Ingredients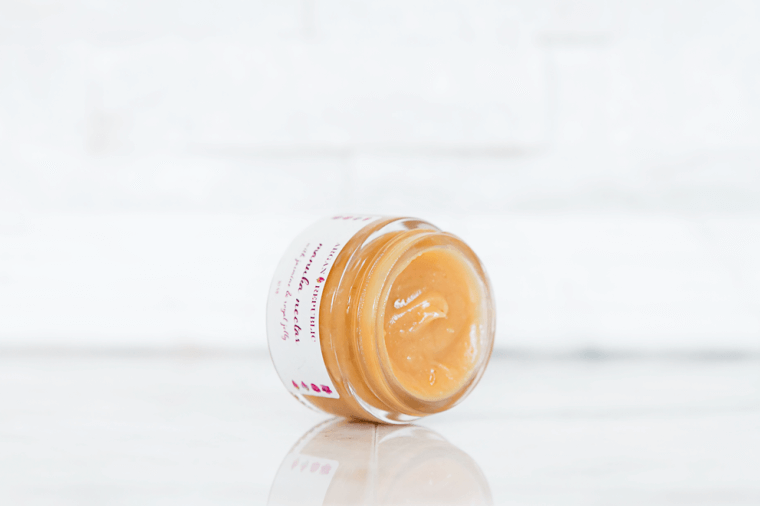 Manuka Nectar Beauty Balm
The power of beeswax, bee pollen and royal jelly come together to create the manuka nectar balm. I personally love to put this balm on my lips at night. Dry winter skin beware this beeswax beauty is potent. Wrap yourself in the sweet smell of honey and lavender. While you soak up the smells soak up the benefits too. This anti-aging bee filled balm amps up not only the hydration level in your skin but the collagen production too! Beeswax also has antibacterial properties so if you suffer from lack of moisture and acne this balm is the best of both worlds. If you want a sweet treat, overnight apply to your feet and put on some fuzzy socks. I highly recommend this. It is the holiday season after all. #treatyourself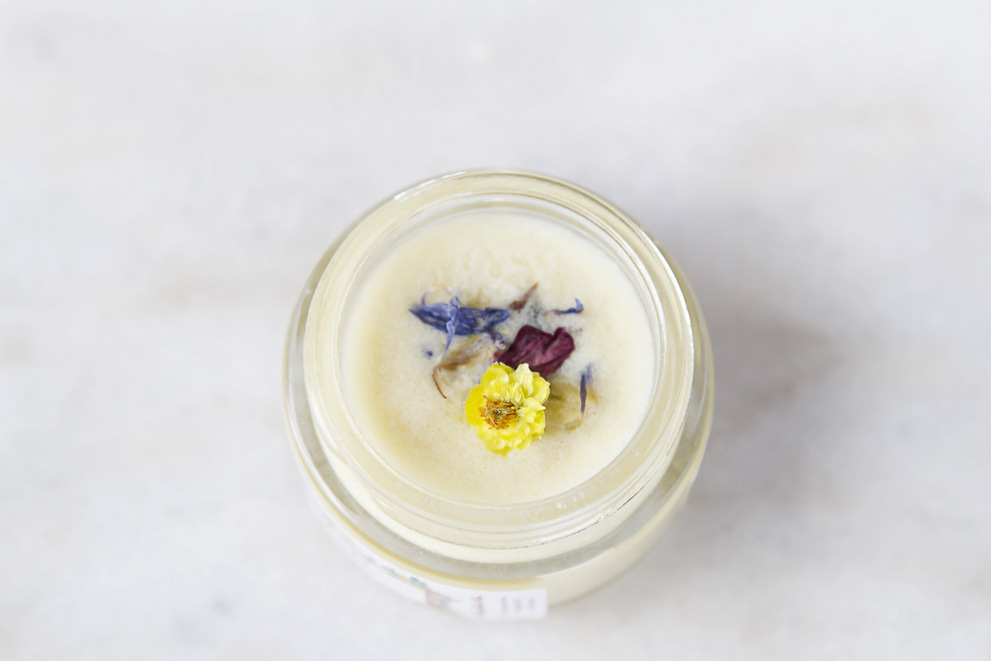 Wild Blossom Beauty Balm
Flower power to the rescue. Open this beauty up and your senses are delighted with the beauty of flower petals and the magical smell of a botanical garden. Shea butter, argan oil and wild honey combine to meet all your skincare needs. Think of a flower goddess combining her harvest from the year and making a potion just for you. Petals dance and sway as they protect from free radical damage, moisture loss, and skin imbalances. This is the perfect balm to start with as it truly takes care of every skin issue you may come across. This balm is like an escape to the sweet smells of summer. Remember when using jar products be sure to use a facial spatula. Using your fingers adds bacteria and decreases the longevity of your product. Scoop it out gently and seal it up fast to keep it daisy fresh.
May you have a happy and healthy holiday season. Be sure to ring in the New Year with a beauty balm to keep your skin merry and bright!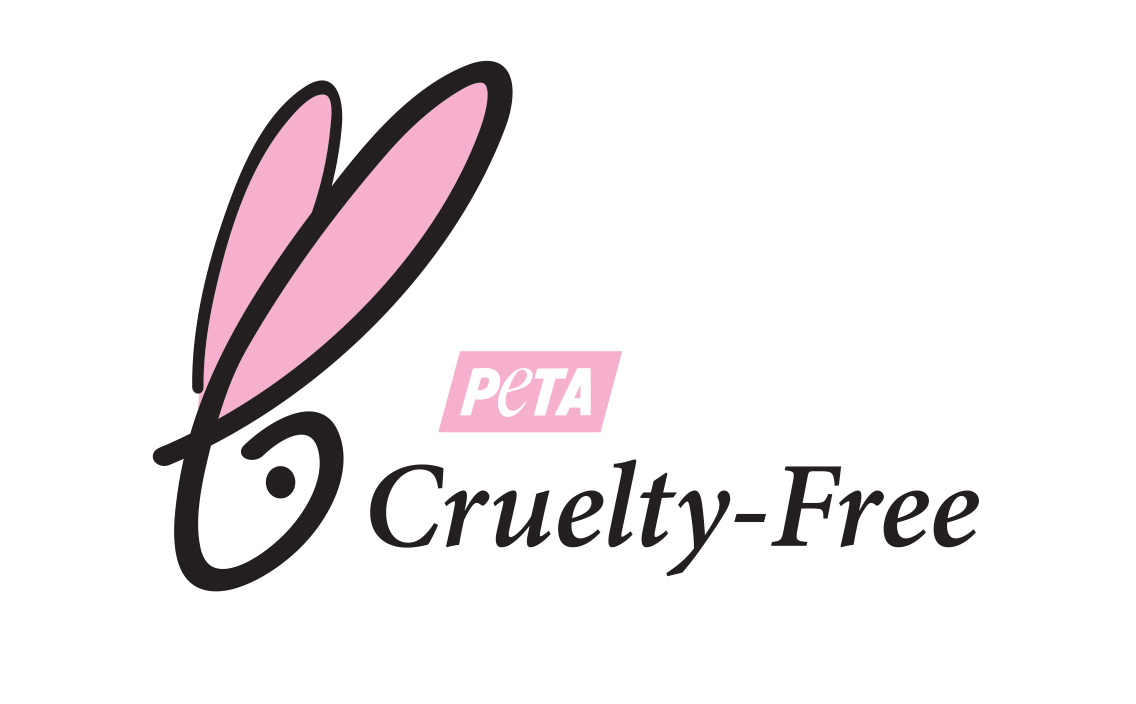 Gabrielle Barry is the founder of Interpret Beauty and also a licensed holistic massage therapist and esthetician in upstate NY. A dedicated leaner and lover of all things green beauty, wellness, and self-love oriented.
_________________________________________________________________________________________________